8787 Georgia – MOM's Organic Market signs lease for new Silver Spring store
Washington Business Journal
September 4, 2020
MOM's Organic Market has reached a deal to anchor the redevelopment of a government facility in Silver Spring into a mix of retail and residential space that's been in the works for nearly six years.
The grocer will lease about 17,320 square feet at 8787 Georgia Ave. from a partnership of Bozzuto Development and Stonebridge. The development team won a bid for the Montgomery County-owned property at Georgia Avenue and Spring Street as part of a 2014 deal that also included the redevelopment of a trio of county-owned properties by the Wheaton Metro Station.
The MOM's lease was signed in May as the county worked to relocate 900 county employees from multiple locations to the new Wheaton building. To that end, the Maryland-National Capital Park and Planning Commission moved out of 8787 Georgia Ave. to its new headquarters in late August. Its exit clears the way for Bozzuto and Stonebridge to acquire the property and seek approval to demolish the roughly 35,600-square-foot, 63-year-old building. The goal is to break ground on the new, $100 million-plus, residential-over-retail development in the first quarter of 2021.
The Bozzuto-Stonebridge team is still working to line up construction financing for the project, which is in a federally recognized opportunity zone, one of several factors that should help in the effort, said Doug Firstenberg, founding principal at Stonebridge.
"We're very thankful," he said. "It's not easy, as you know, but really, at the end of the day, good projects with good sponsorship are getting done, and a combination of Stonebridge and Bozzuto, that's a pretty good sponsorship. You've got the right project in the right location too."
The development team courted MOM's with the hope it would help activate the property's ground-floor retail presence, said Devon Hastie, development manager at Bozzuto.
"We love their brand and the sustainability lifestyle they promote," Hastie said."Having the grocery store anchor on the northern corner of our property is really going to help draw people up Georgia Avenue and continue the retail up Georgia Avenue to downtown Silver Spring."
The MOM's lease leaves about 7,730 square feet of retail at 8787 Georgia, space that could accommodate up to four smaller tenants. Matt Skalet and Kim Stein from KLNB are marketing the spaces, targeting full-service and fast-casual restaurants, boutique fitness operators and other neighborhood-serving retail. CBRE broker Lee Engle represented MOM's in the lease.
"What that part of Silver Spring needs, there's really no retail driver, there wasn't a place like a MOM's that made that area feel great," said Firstenberg. "Landing that grocery store, we think, will really redefine that neighborhood and change it a lot, and so that's why MOM's was so important to us in terms of feeling that the project had all the right components for big success."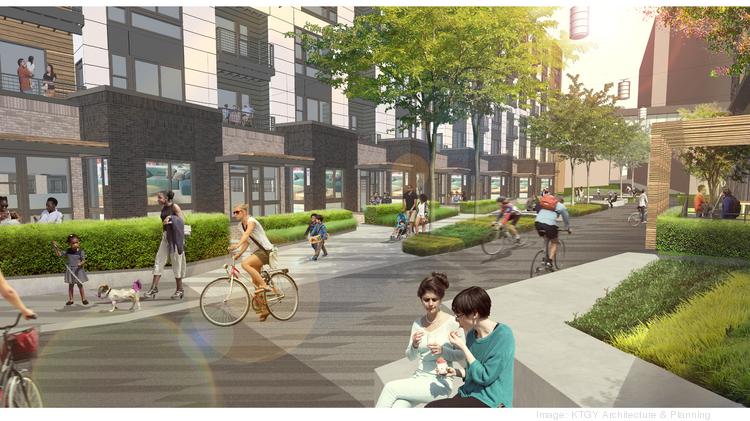 The project, designed by architecture firm KTGY Architecture & Planning and interior designer GrizForm Design Architects, will feature two residential buildings with 375 apartment units above 25,050 square feet of retail and an underground parking garage. The property will also feature a public walkway between the two residential buildings, formalizing as public space an informal walking path that currently exists through the government center.
The team has not made many changes to the project's design in light of the ongoing coronavirus outbreak, but Hastie said it has some elements that could be useful, including an indoor-out-door area that could function as coworking space for residents even after the threat of the coronavirus has passed.
Slated for completion in 2023, the development will also have a pool, outdoor bar and movie screen, grills, fire pits, a landscaped "passive courtyard" with hammocks and other outdoor seating, a fitness center and upscale pet spa, among other amenities.
Bozzuto Construction Co. will serve as the development's general contractor and the company's management arm will oversee the property once completed.