Alameda Landing – TRI Pointe Homes Reimagines Island Life
Builder and Developer
August 1, 2016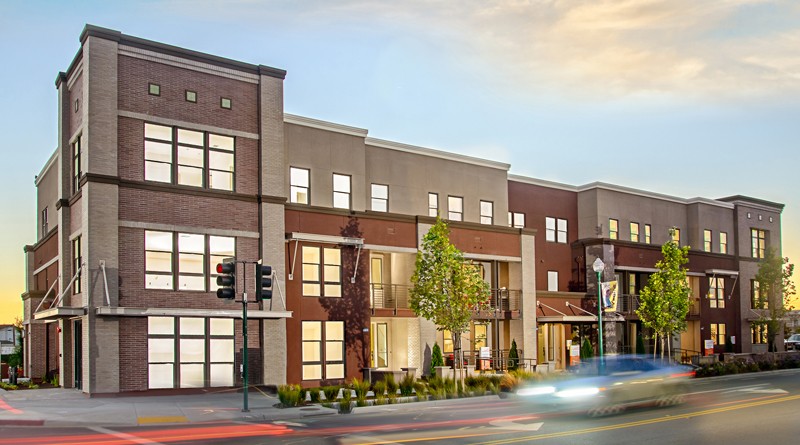 TRI Pointe Homes' Alameda Landing provides a contemporary setting inside three distinctive, walkable neighborhoods, each providing stylish living in the East Bay.
By Carina Calhoun
Photography by VBI Studios
Once home to the U.S. Navy's Fleet Industrial Supply Center, Alameda Landing is a 72-acre mixed-use development with new homes in a convenient waterfront setting including sustainable features. TRI Pointe Homes delivers a diverse set of residential neighborhoods on Alameda Island where homeowners can enjoy the surroundings of an urban village, avoid the hassles of the big city and yet remain only a ferry ride away from all it has to offer.    
The community offers three residential neighborhoods including single-family detached homes named Cadence; Linear as the urban loft-style condominiums; and Symmetry, attached townhome-style condominiums for active homeowners. Currently, 135 units have been sold with 98 occupied. At full build out, projected for late 2017, there will be a total of 255 units completed.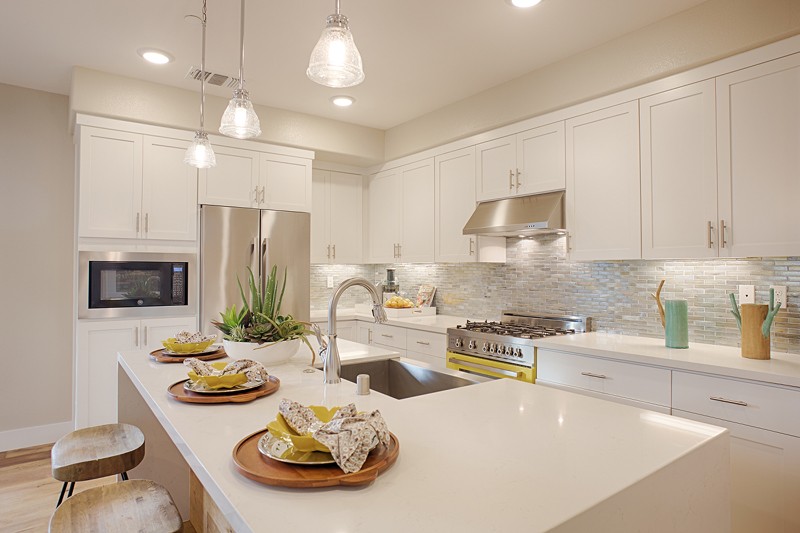 Understanding the previous lack of elaborate residential neighborhoods in the area, Carrie Newbery, Vice President of Sales and Marketing at TRI Pointe Homes Northern California, said, "There was a need for new multifamily construction in the area for more than two decades and TRI Pointe Homes stayed with it to make it happen."
TRI Pointe Homes has proven itself to be an adept leader in providing housing that meets the demand for closer-in (city) living. This reputation attracted the master developer, Catellus, to select TRI Pointe as its exclusive and preferred builder. Catellus specializes in transforming military bases like this one into dynamic mixed-use communities.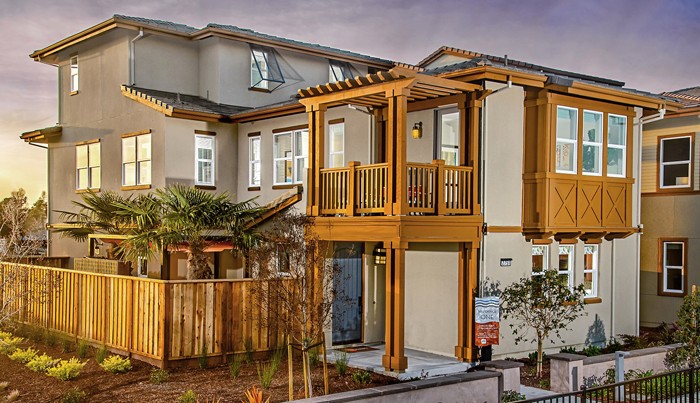 The three neighborhoods at Alameda Landing may be different in scale and type, but the cohesive living style is evident among all three residences. KTGY Architecture + Planning, the architect for the community, created a distinctive approach to the design. Jill Williams, AIA and Chairman at KTGY, explained, "The design and architectural vision for the three communities was to make the neighborhoods a place with a story of its own, a look that is not found elsewhere." She continued, "The overall project provides multiple housing types with a diversity of styles and materials that combine the residential, commercial, and waterfront industrial influences found in the immediate surroundings."
"The beautiful waterfront with breathtaking views lends a true 'island lifestyle' to the community," continued Newbery. "The design and architectural vision for the community by KTGY and the names of the neighborhoods, draws from Alameda Landing's maritime history and the quaint charm of the nearby Victorian homes."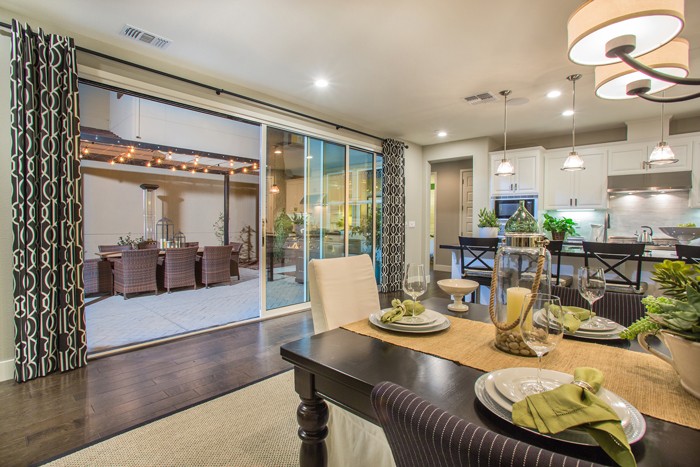 The 91 single-family homes at Cadence offer four floorplans, a variety of styles and mix of two and three stories create diversity and visual interest and offer three to six bedrooms and up to four bathrooms. Half of the floor plan types provide a ground level bedroom and Plan Three incorporates standard "universal design" features that allow for aging in place, multi-generational living and accessibility. Cadence residences also include private two-car garages and the best of indoor/outdoor living for homeowners with inviting porches, courtyards and balconies.
Linear at Alameda Landing is comprised of 106 urban townhome-style condos and flats with seven floor plan options for a variety of lifestyle stages. Designed with stylish, contemporary interiors, this development's waterfront industrial-inspired facade blends in perfectly with the feel of the rest of Alameda. Linear offers two, three and four-bedroom homes, which feature stylish gourmet kitchens, high-end finishes, floor-to-ceiling windows, luxurious master suites and spacious, modern layouts with the convenience of a private two-car garage. The condos and flats also feature great outdoor spaces such as open decks and porches.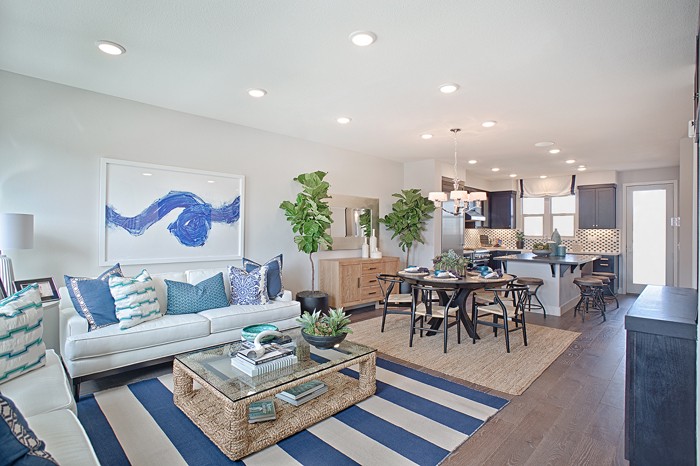 In phase two of the community, TRI Pointe Homes has just opened Symmetry, the latest neighborhood in its pedestrian-friendly urban village. Symmetry at Alameda Landing offers three-story, attached townhome-style condominiums with two to four bedrooms. Designed with a contemporary mission-style aesthetic, these townhome-style condominiums  face lushly landscaped paseo courtyards and multiple patios and decks from which to enjoy the views. Symmetry's interiors feature open floor plans, spacious family rooms, ample storage space, oversized bedrooms and luxurious kitchens and baths. Each home comes with a two-car garage and a balcony, porch, or deck.
"When homeowners at Alameda Landing return home at the end of a busy day, we have created a space where people can come home, take a deep breath and relax while enjoying the best this area has to offer," stated Newbery. "This community offers homebuyers choices. The three distinctive residential neighborhoods offer something for everyone, from contemporary urban loft-style designs to detached courtyard-style single-family homes."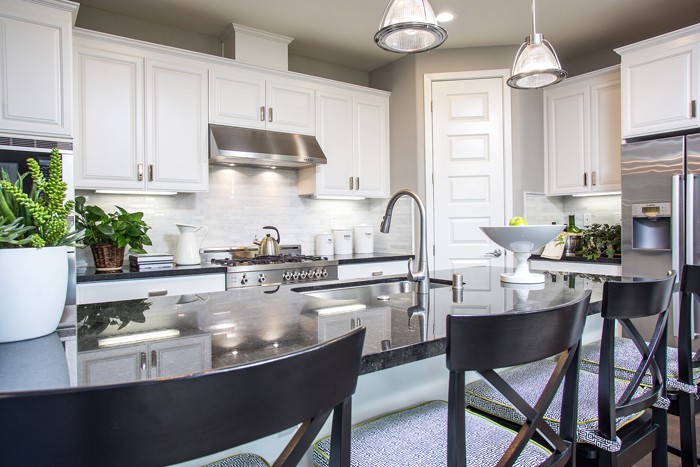 Targeting a diverse range of homeowners that can choose from multiple home styles from young tech-savvy couples to move-up buyers and families looking for good schools and a safe environment.
Jonathan Boriack, AIA, Project Manager for Alameda Landing at KTGY, commented, "The very special feature is that the multi-story buildings are designed with integrated first floor flats, allowing for large townhome units above, and also two-story townhomes with living and sleeping on the ground floor. The variety of higher density living is not found within the core bay region."
The community is also committed to TRI Pointe's LivingSmart® initiative. With four components—EnergySmart, HealthSmart, EarthSmart and WaterSmart—the program is committed to not only energy-efficient design but for homeowners to embrace a sustainable lifestyle. All of the homes at Alameda Landing are designed and constructed with environmentally-conscious qualities including: energy efficient heating and cooling systems and programmable thermostats; low-VOC, water-based wood finish, interior paint, caulking, and adhesives; a built-in kitchen recycle bin; an optional solar system; and WaterSense faucets, showerheads, and toilets to conserve water, just to name a few.
Along with the well-defined home styles and containing eco-friendly features, the community also includes retail elements that are already up and running for residents to take advantage of including a 291,000-square-foot shopping center anchored by a brand-new Target, along with nearby restaurants, offices, entertainment venues, and coveted open space.
Urban infill buyers prize "walkability," which is central to the Alameda Landing lifestyle. Upon completion, Alameda Landing will include 291,000 square feet of retail, up to 400,000 square feet of future office space, up to eight acres of open space, and 30 acres of housing by TRI Pointe Homes.
Carina Calhoun is the Editor-at-Large for Builder and Developer magazine. She may be reached atccarina@penpubinc.com.