Bella Vista – Breathtaking Views Inspire a Community
Builder and Developer
September 9, 2016
Griffin Residential launches an exclusive, elegant product
line in the heart of the Inland Empire
By Genevieve Smith
Rolling, sun-drenched hillsides, covered in grapevines, capped with beautiful stone estates… it must be Tuscany. But think again, because these hillsides are much closer to home than the Italian countryside—and much more attainable than a centuries-old villa. The brand-new, perfect simulacrum is actually right in the heart of one of Southern California's most historic cities in a booming real estate market.
Enter Griffin Residential's grandest foray into the Inland Empire market: Bella Vista Estates. Hilltop home sites on luxuriously spacious lots, all with breathtaking, panoramic views, Griffin intended these homes to impress and the finished product absolutely does—so much so that word was out before the community officially opened. Early morning hours on the day of Bella Vista's Grand Opening saw a line at the front gate before they'd even opened for business.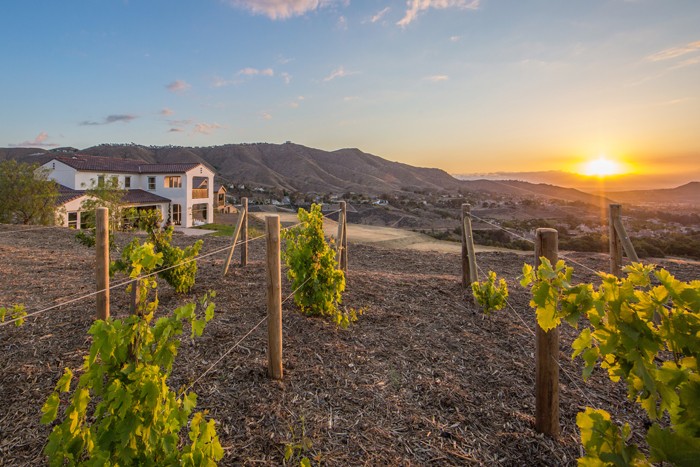 The gorgeous gated community of luxury single level and two-story residences captured the hearts of many, enjoying incredible sales success of 15 homes in the first six weeks and multiple offers on most of the homes by early summer. This kind of success wasn't exactly a surprise to the team at Griffin.
"We were confident that we had a great piece of property in a great location and if we could deliver exceptional product…we would be successful," said Rick Peters, director of development for Griffin Residential. With the proven product selling quickly, Griffin has already begun to examine the elements that lead to the success they've enjoyed at Bella Vista.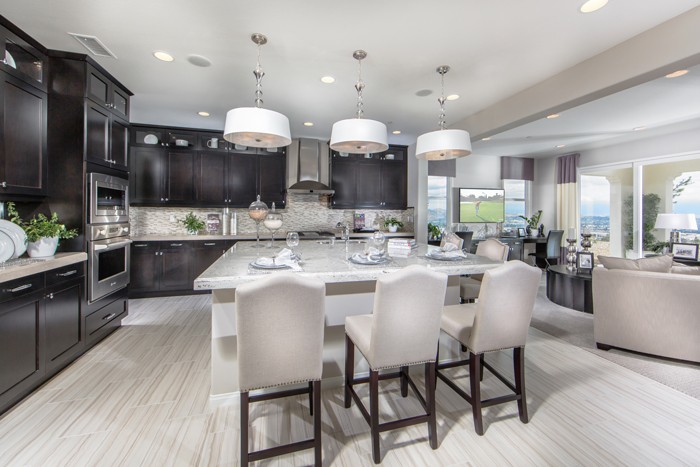 First and foremost, the community's sun-soaked location in the foothills directly inspired and influenced the design of the community. "The hillside location begged for something special," said Peters. "We purchased the property from a land developer that we have known for many years. It took months of back and forth negotiations to finally hammer out a deal [but] it was well worth it, as we knew we had something special."
The design team at KTGY delivered something exceptional to complement Griffin's extra effort to acquire the land. "Bella Vista was designed with several key factors in mind," said designer David Obitz, Principal with KTGY. "Providing buyers with three distinctly different home designs featuring standout exterior elevation styling; promoting the luxury of the master plan; providing semi-custom elegance on estate-sized lots in a price-sensitive market; capturing the incredible daytime and evening views of Riverside, and emphasizing the indoor/outdoor living," The masterfully crafted architecture hits all objectives and more.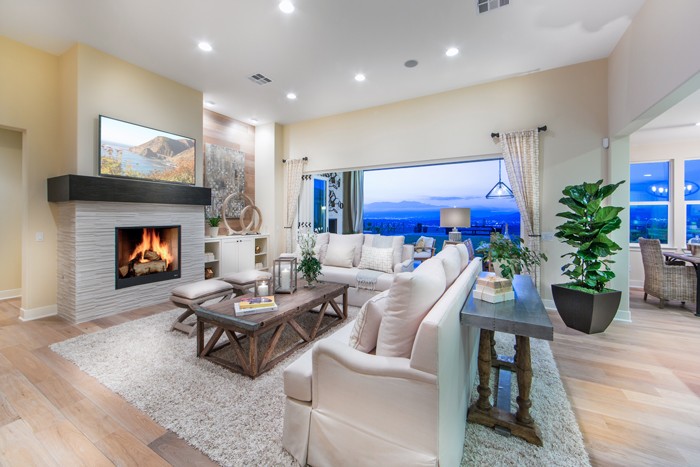 The flow of the homes offers a precise sense of beauty and proportion, from the elegant arrival through porticos and courtyards, to the meticulous attention paid to every detail throughout. Featuring single-level and two-story designs, four to six bedrooms and three-and-a-half to five-and-a-half baths, the three distinct elevations are presented in floor plans ranging from approximately 3,315 to 4,442 square feet. Soaring interiors reveal airy, open concept living. Detached casita options add flexibility to lifestyles and are available for additional living space, home site permitting.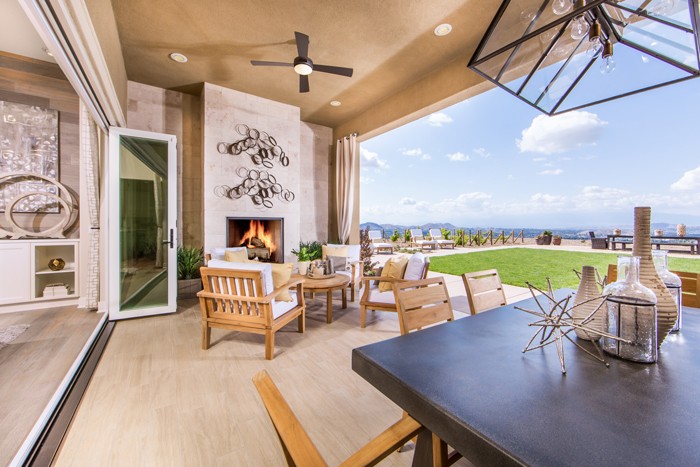 Embodying quintessential California living, the expansive home sites are designed to maximize views and create enticing outdoor living areas. "One of the most important design factors we kept in mind when conceiving Bella Vista was the indoor/outdoor relationship," said Obitz. "We wanted residents to be able to engage with these large estate-style lots with expansive daytime and evening city-lights views. Covered outdoor living spaces, large folding glass doors and detached casitas encourage indoor/outdoor living." The indoor/outdoor areas designed by KTGY for Bella Vista use all the elements above to truly blur the line between interior and exterior space and draw residents out to enjoy the opportune view their home sites enjoy.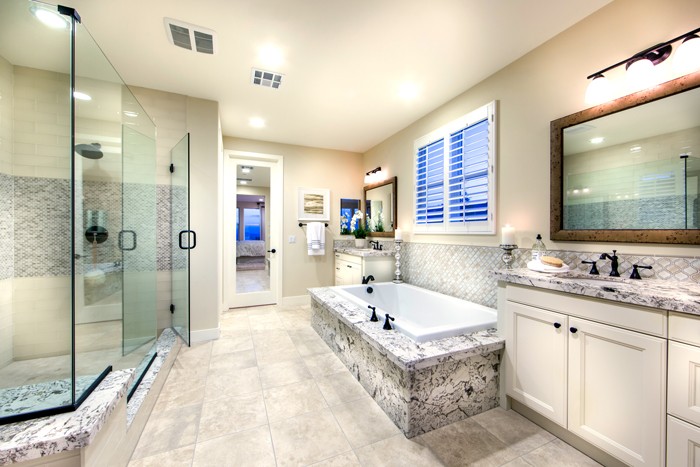 Even with the early knowledge that Bella Vista would be all about the view, Griffin had some hurdles to overcome in order to place homes in position to allow the architects to take full advantage. "Building a hillside development can present many challenges and the biggest challenge for us was working with the rocky site conditions which required a fair amount of rock breaking, blasting, and handling," said Peters. The challenge presented by the rocky sites wasn't the only one the team would face, either.
Another obstacle with Bella Vista was getting comfortable with the mindset that the Riverside market would support large luxury upscale homes at a higher price point. "We knew we had an incredible site with incredible character, unique topography, and amazing views, but the higher end new home market in Riverside was struggling and had been for years," said Peters. It probably didn't hurt that the homes start in the low $700,000s, far below what the median luxury home prices in nearby Orange and Los Angeles counties. But with such a beautiful product at such a low price point, Griffin has since been vindicated in their belief that the market would support their luxury product and now are looking to provide it elsewhere, at least in spirit.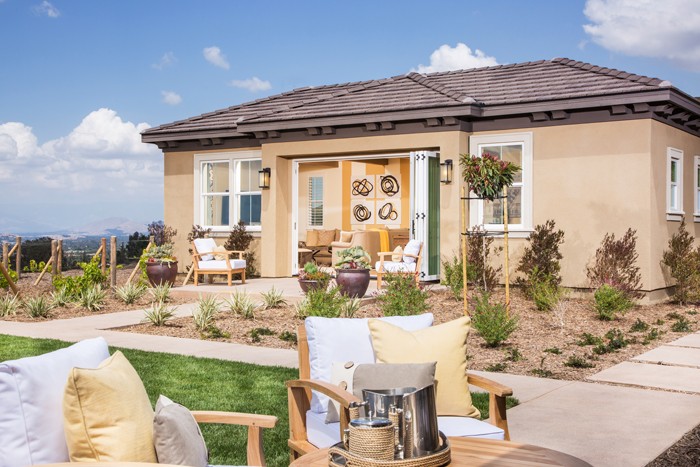 Although it was the location itself that begged for something special, the home designs inspired there will be offered in new areas, speaking of the same luxury and intimacy. In particular, Griffin is working on new projects nearby like Bella Vista Estates, Rancho Cucamonga, as well as other projects in Chino and Fontana.
According to Peters, the proof is in the profit: "Our sales success has proven that Bella Vista offers what buyers have been looking for."
Genevieve Smith is the Editor for Builder and Developer magazine. She may be reached at gen@penpubinc.com.