The Frasier Mixes Past And Future
GlobeSt.com
January 4, 2017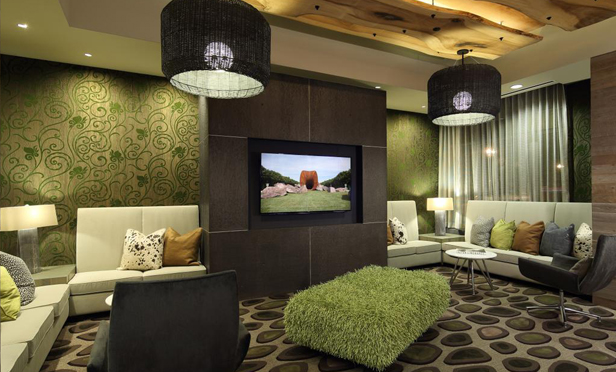 "It was extremely important for us to come up with a project that was authentic, warm and inviting and really timeless," says Bozzuto SVP Doris Gantos.
Alexandria, VA–The styles, industrial design and aura of an old railroad yard provided ample inspiration for the developer of a new multifamily asset. But four competing builders also had the same muse. Here's how Bozzuto Development Co. answered that challenge and ended up a finalist in the National Association of Home Builders' annual Pillars of the Industry Awards.
The Project: The Frasier
City: Alexandria, VA
Award Category: Best Interior Merchandising of a Common Area
Developer: Bozzuto Development Co.
Architect: KTGY
Interior Designer:  RD Jones
Mission:  Potomac Yards had its day in the sun. But the rail yards were decommissioned in 1989 and ultimately turned over to a master developer. But the industrial history of the acreage did live on . . . as inspiration for a number of developers who took on the challenge of redefining the space for a new market.
Enter Bozzuto, which had plans to build 249 units of market-rate housing to be called the Frasier. But, with a number of other developers, both on the former rail acreage and in close proximity to it, the challenge was clear for Bozzuto to differentiate itself from the pack.
"It was extremely important for us to come up with a project that was authentic, warm and inviting and really timeless," says Bozzuto SVP Doris Gantos. "We wanted to focus on creating an environment that was very boutique-like, and the materials we selected were chosen to engage our customers and let them feel like they were at home while also experiencing the feel of a high-end boutique hotel.
"We also wanted it to be a differentiator in the marketplace," she continues, "in order to compete effectively with the four of five other lease-ups that were going up at the same time."
Execution: Gantos says there was a sort of balancing act in creating the common spaces–invoking the history of the place without hitting potential residents over their heads with it. To that end, "We identified who our customer was and how we could best appeal to them. We felt from a strategic standpoint that this would lend to the success of the building."
And who are those customers?  As the NAHB application states, because of "its close proximity to our nation's capital, the property will consist of a high percentage of military residents, amongst them financial professionals, lawyers and government personnel, as well as a large number of commuters to the city and elsewhere."
So when a customer walks into the Frasier she or he will note the industrial color scheme–the touchstone with the past–but only as a sort of subtext to a warm and welcoming overall interior design. This was marked primarily through dramatic lighting used to create what Gantos calls "wow" areas, and a strong emphasis on unifying interior and exterior spaces.
That was done largely by the use of the materials Gantos mentioned earlier. As the NAHB application states, "The outdoors continue inside the lobby with expansive views of the courtyard and the integration of natural materials. Rough sawn tree trunks and petrified wood stumps create texture, rhythm and playful contrast. The wood is a mix of red and white oak commonly found within the Appalachian Mountain range."
There's also a strong emphasis on community, and Gantos explains that Bozzuto recognized "that our residents are very social. So in the courtyard we introduced grills and fire pits. We have large fireplaces that connect from indoor to outdoor.  The seating arrangements are an extension of what we did in the interior," and all of it was positioned to inspire socialization. That sense of community was enhanced with art produced by local artists.
And to top it all off, the spaces are on two tiers, both providing all of the above-mentioned amenities. All of these elements, she explains, allow for more conversational opportunities and moments of gathering.  As a final touch, a large waterfall "provides a serene setting," she says.
End Game: Naturally, measuring the success of an interior design apart from other features and differentiators of the space can be a tricky proposition.  But, as Gantos reports, the Frasier is now 92% occupied.
Also, "Our success was measured by the fact that we were in stiff competition and our lease-up pace was exactly as we assumed it was going to be.  We had the highest rent in the market during the lease-up and that in itself is proof that our customers received the product very well."