KB Home ProjeKt – This House Keep Residents Healthy By Design
Builder
February 15, 2019
Take a virtual tour through the KB Home ProjeKt, KB Home and KTGY Architecture + Planning's holistic vision of "where tomorrow lives".

Kip Dawkins
Over the past few decades, green design has rapidly evolved from its early roots as a residential fringe movement, and, since then, much has changed about the way people live. Smart and sustainable design—no longer optioned as a premium, but rather an expected commodity in new construction—now prompts architects and builders to ask: What if we could take the concept a step further and build homes that benefit inhabitants as much as they do the environment?
In the Inspirada community in Henderson, Nev., answers to that question are taking shape in the form of the 2019 KB Home ProjeKt, a model home that moonlights as a collaborative laboratory for a team from Los Angeles–based builder KB Home and Irvine, Calif., architecture firm KTGY Architecture + Planning. In concert with a select list of manufacturers, the group has come together to produce a holistic solution designed for "where tomorrow lives."

Steve Spatafore
A 2.0 version of KB Home's 2016 ProjeKt, the latest iteration continues its predecessor's original objective of achieving sustainable homes that can be produced at volume, and reshapes its floor plan as a more progressive, compact footprint that's flexible enough to enhance, grow, or contract with a family's changing lifestyle needs.
Research, including proprietary studies by the Farnsworth Group, points to the fact that by 2030, homes will adapt to promote healthy living habits, and that recent changes in U.S. healthcare are also driving the trend. Recent Farnsworth surveys found that two out of three homeowners link healthy home features with the possibility of lower medical expenses. In the ProjeKt home, Delos—the firm behind the WELL Building Standard—will premiere the world's first holistic in-home wellness platform designed to passively enhance a homeowner's health and well-being. Named DARWIN, the product focuses on six pillars of human health: sleep, stress, cognition, energy, performance, and lifestyle.
"The biggest surprise to builders is that this system is affordable and targeted toward the middle market," says Jacob Atalla, vice president of sustainability at KB Home. "This is the future of the smart home, and it is as thoughtful as technology allows for." Health—both mental and physical—is the primary focus in this home, which is filled with an ecosystem of wellness-promoting features connected via DARWIN, including smart air purifiers, a Circadian-enhancing lighting system, and healthful kitchen tools. Building materials such as anti-microbial paint and drywall containing no VOCs were carefully selected to "do no harm."

Kip Dawkins
The home is built to maximum efficiency standards, thanks to integrated prefabricated construction solutions from Entekra and MiTek Industries that took the design, engineering, and manufacturing of the home off-site. The panelized framing process reduced labor costs, on-site conflicts, and reworks, according to Atalla. Inside, the design team created every room to be as space-efficient as possible, and considered what residents really need—and don't need—to live well. A movable wall, camouflaged on one side by an oversized wine rack, makes it possible to easily expand the dining area to accommodate large gatherings, or it can morph into a petite workstation or spare bedroom for guests when needed. An upper-story suite with its own private entrance can be locked off and used as a caregiver or boomerang child's quarters—or as an Airbnb rental to generate extra income to offset mortgage expenses.
At the street level, the project aims to revitalize the concept of the pocket community with a future vision of shared communal spaces such as paseos and gathering gardens that blur the boundaries between public and private and make better use of limited land while keeping the cozy and intimate feel of the homes. "The home is about showing that it's possible to be more efficient with land, and begin to move away from design practices we could do without," explains Keith McCloskey, executive director of design at KTGY's Los Angeles office.
"Through smarter programming, it's still possible to live well—to get outdoors, relax in a tub, practice yoga, and enjoy outdoor dining—in a smaller footprint through multipurpose spaces that can be quickly and simply rearranged for various uses." In the ProjeKt team's long-term vision, compact communities that link inhabitants through flexible floor plans and health-focused features will be a top priority for American home builders large and small.
"Most of the design features that push the envelope are things visitors won't see," McCloskey says. "We used good design to conceal features that should be standard and built into every home."
Take a virtual tour through the home ↓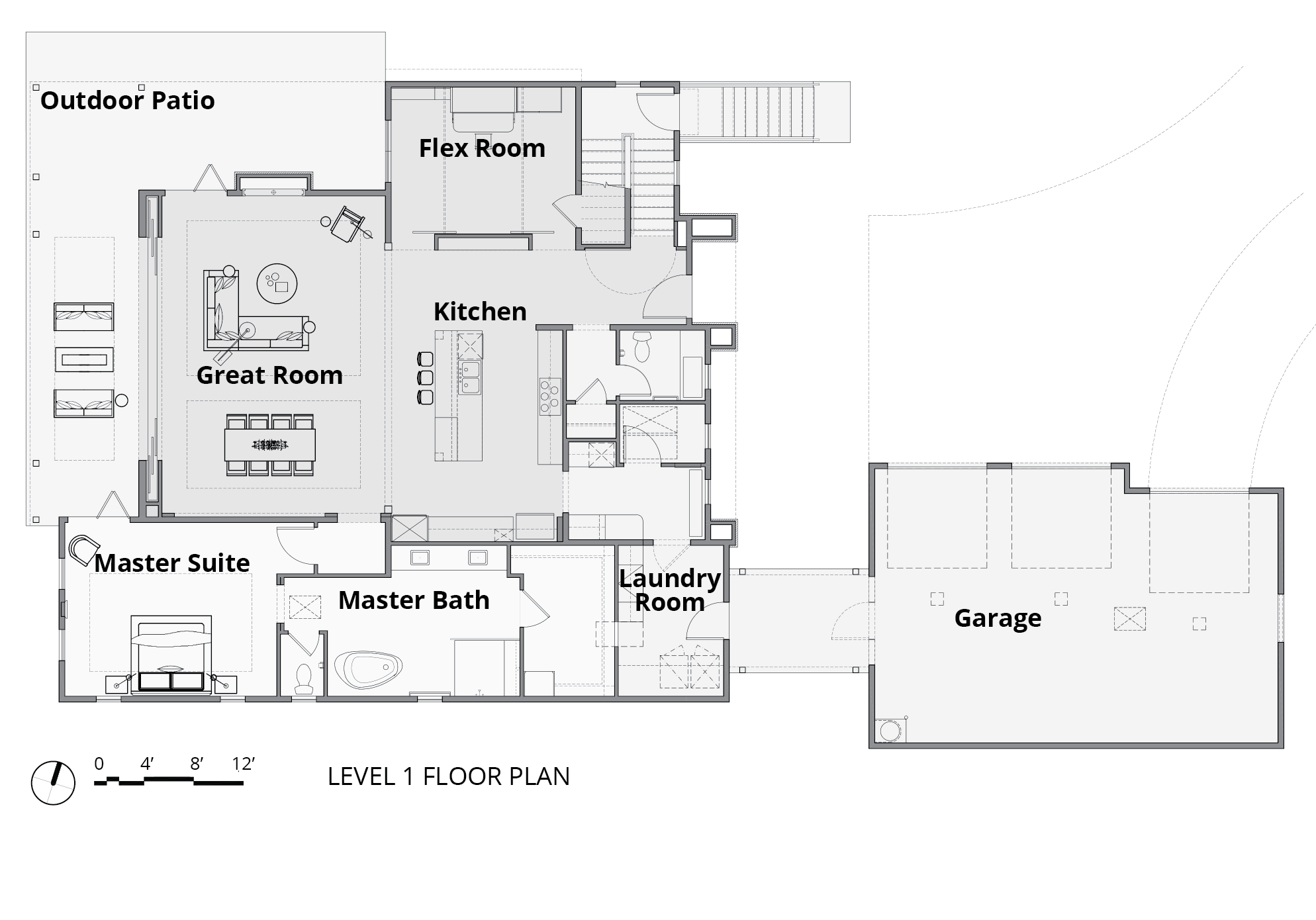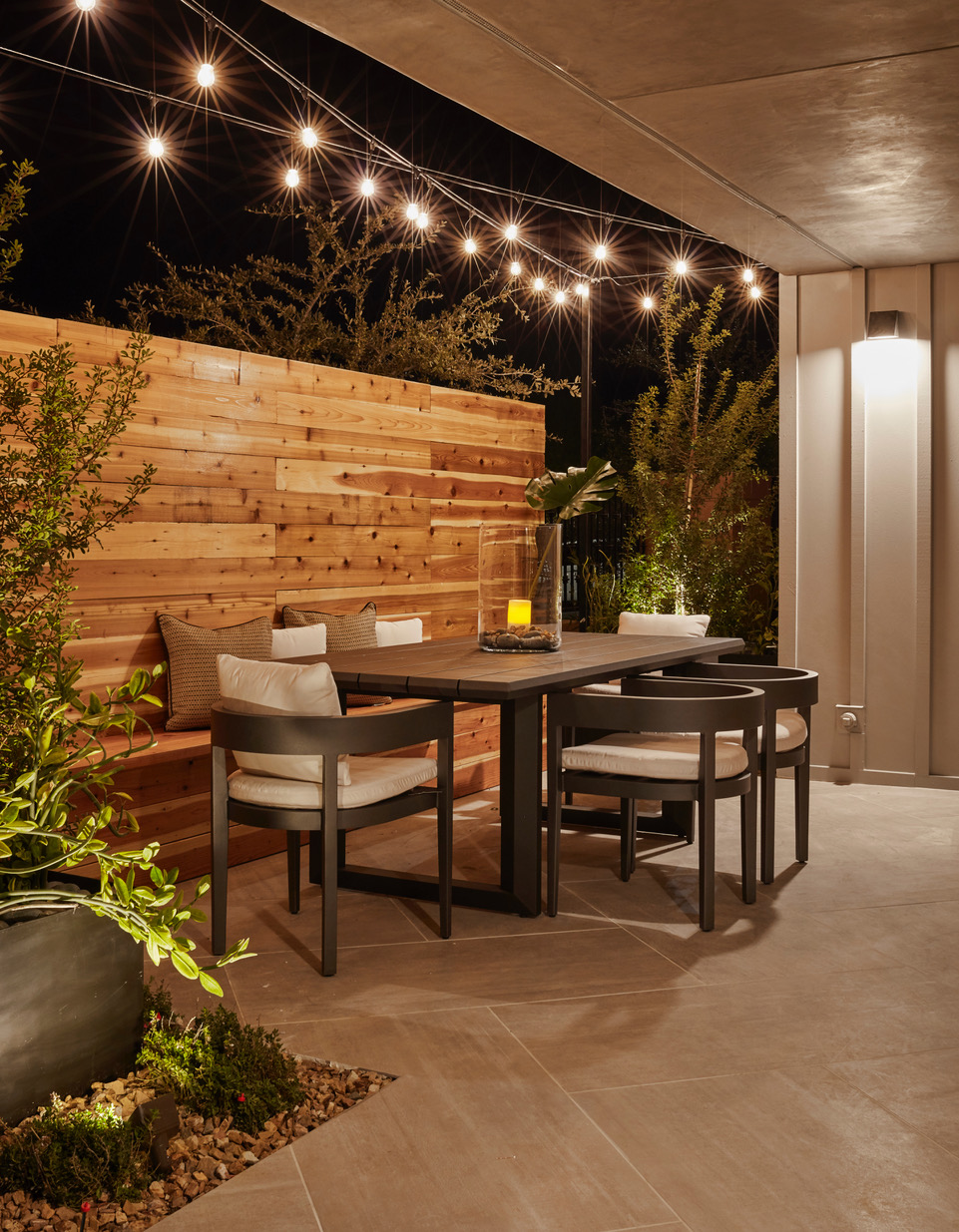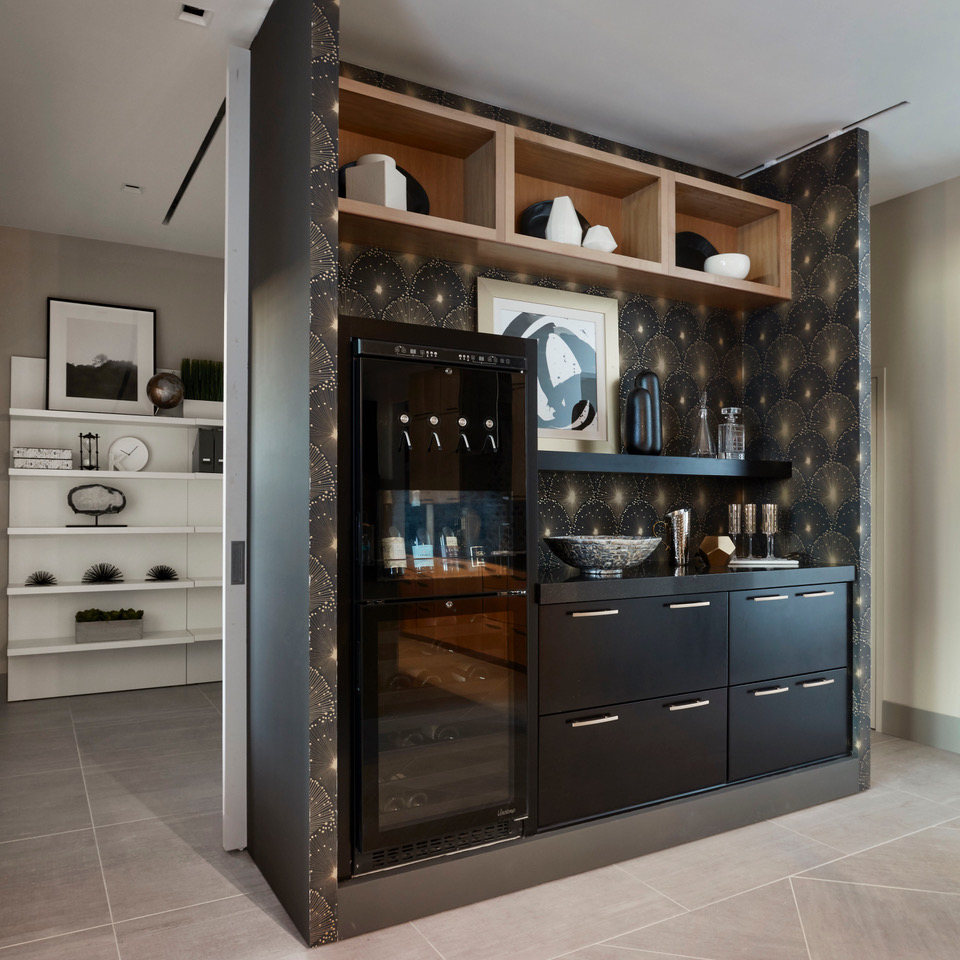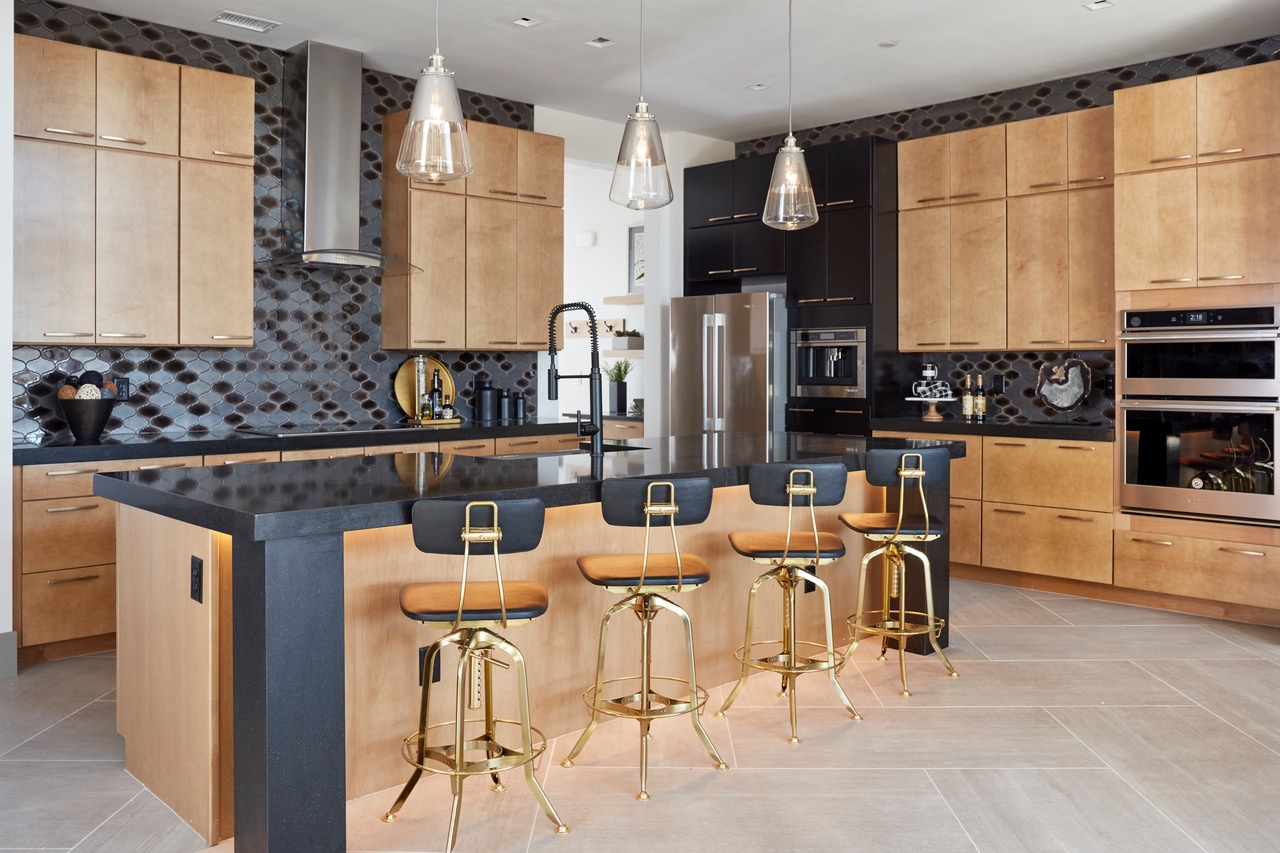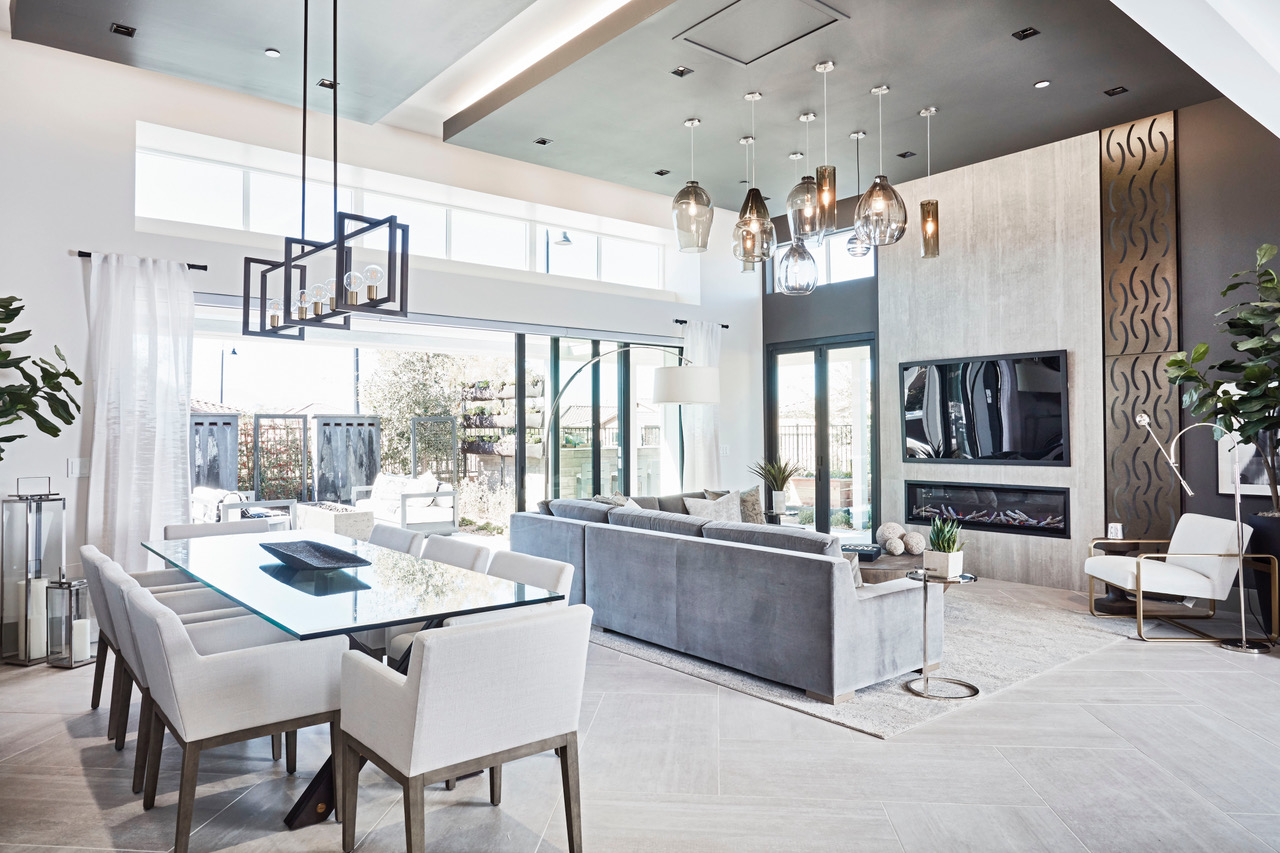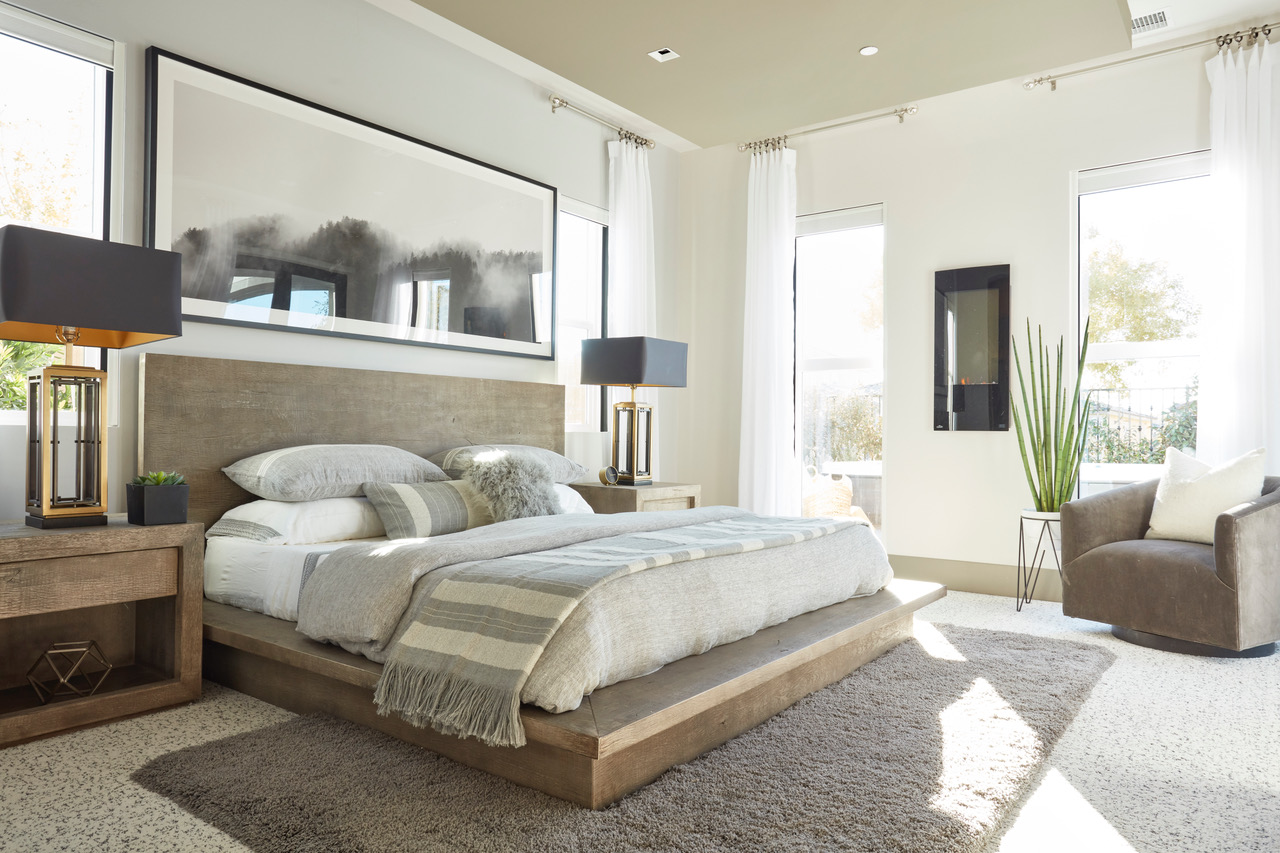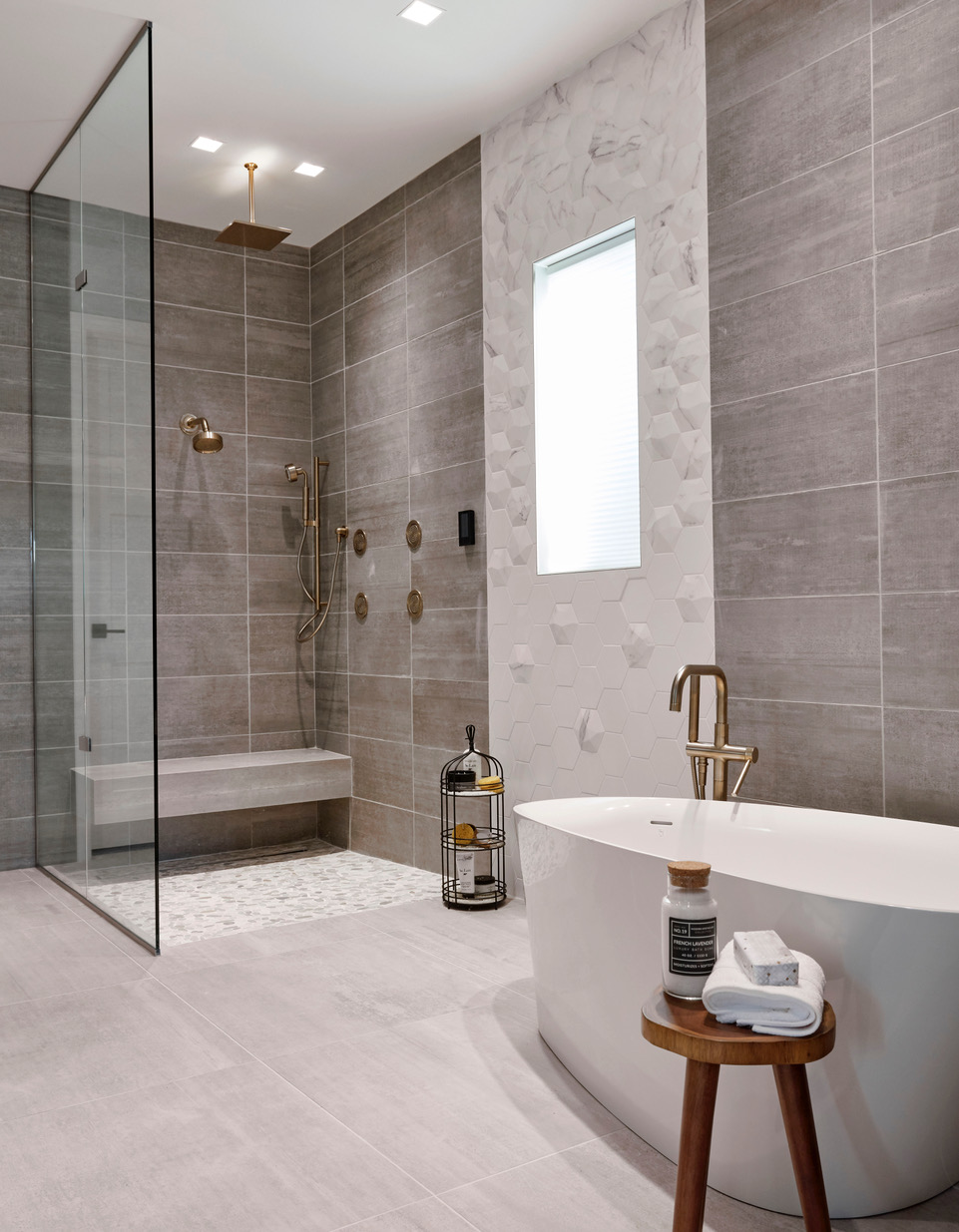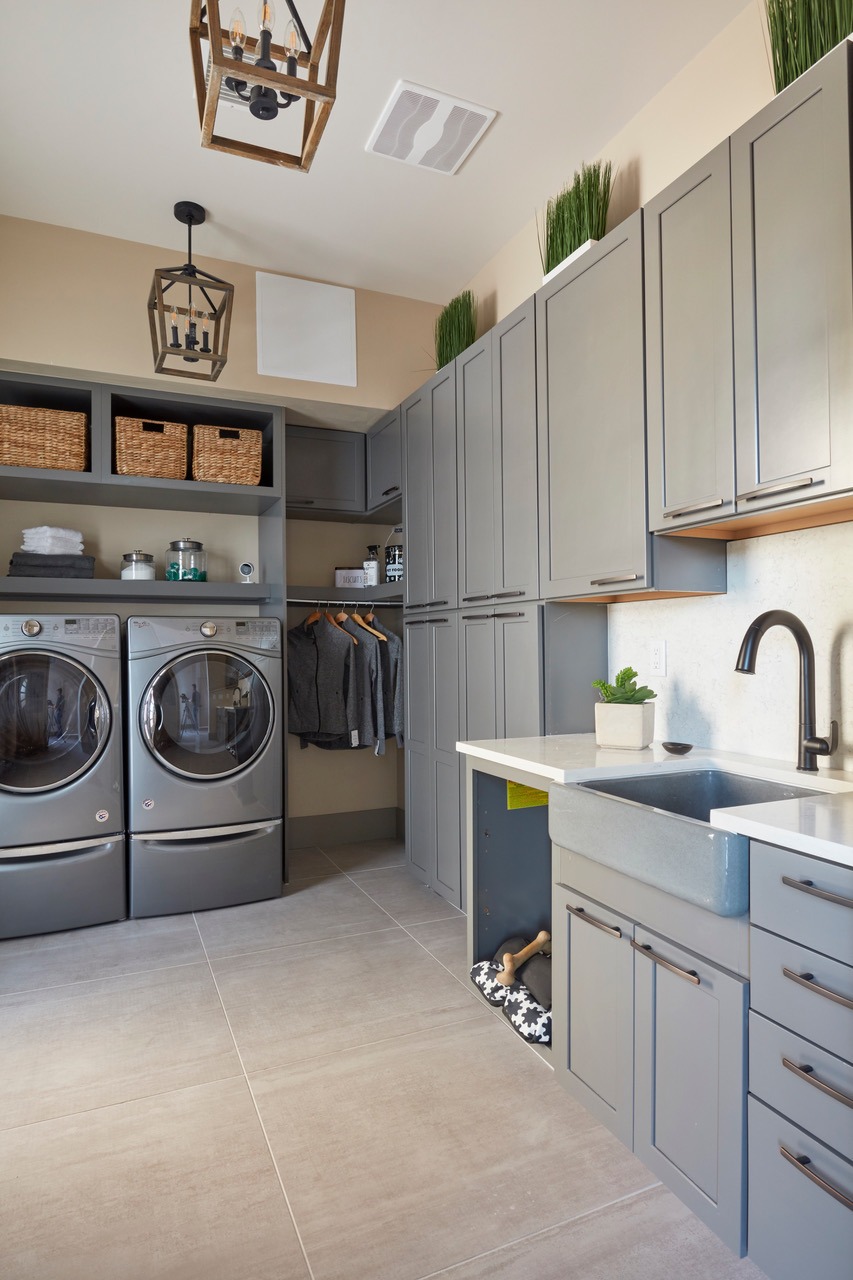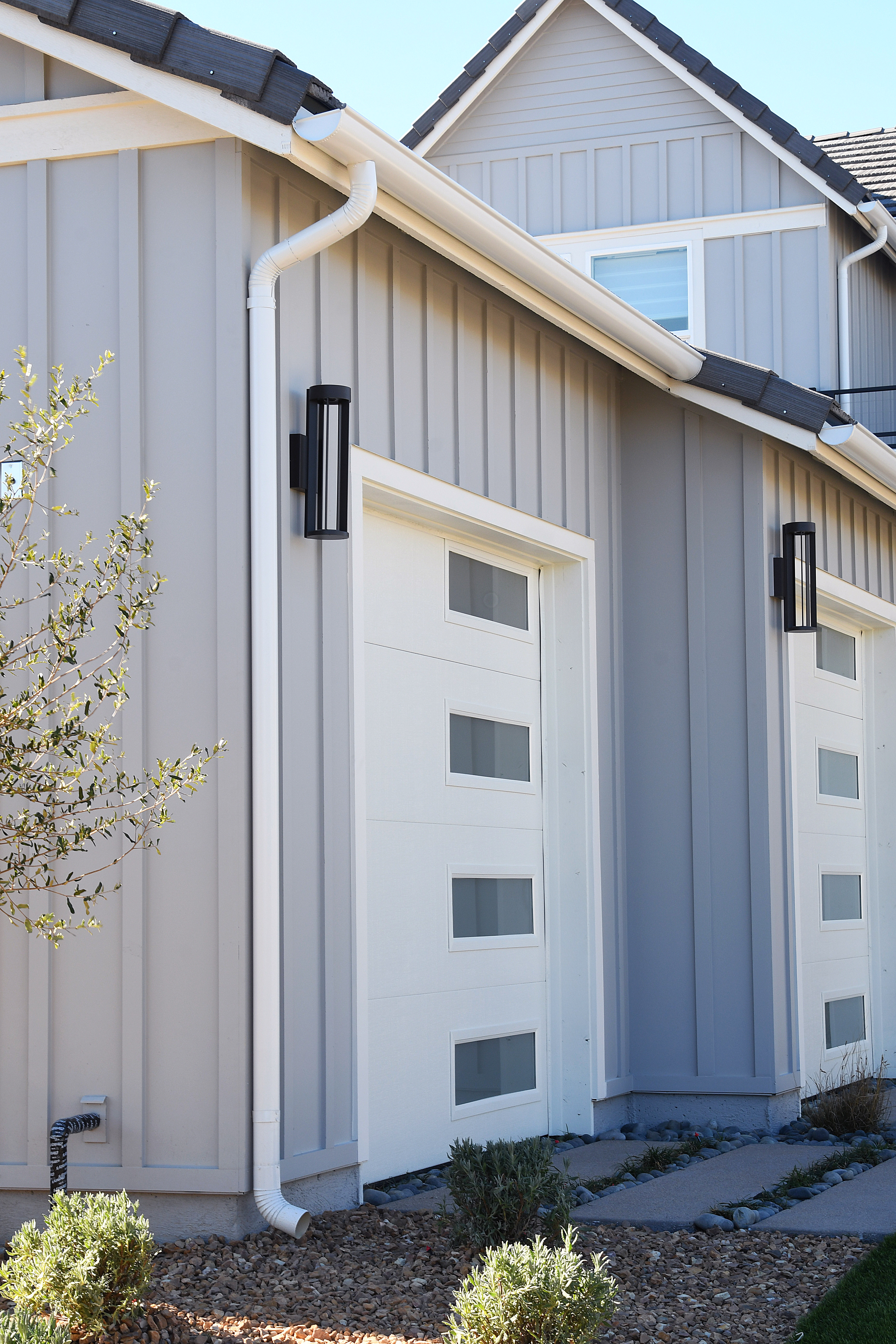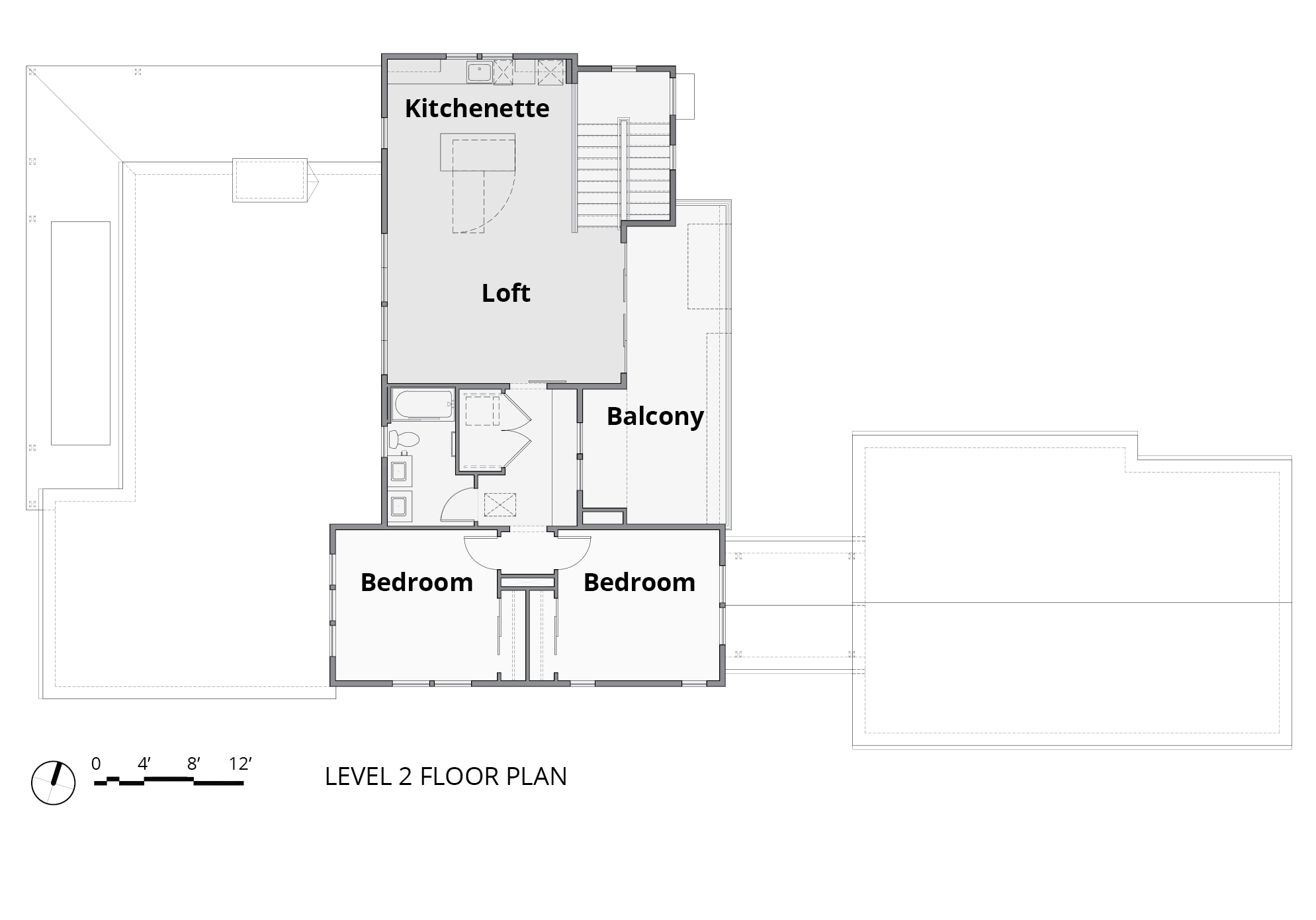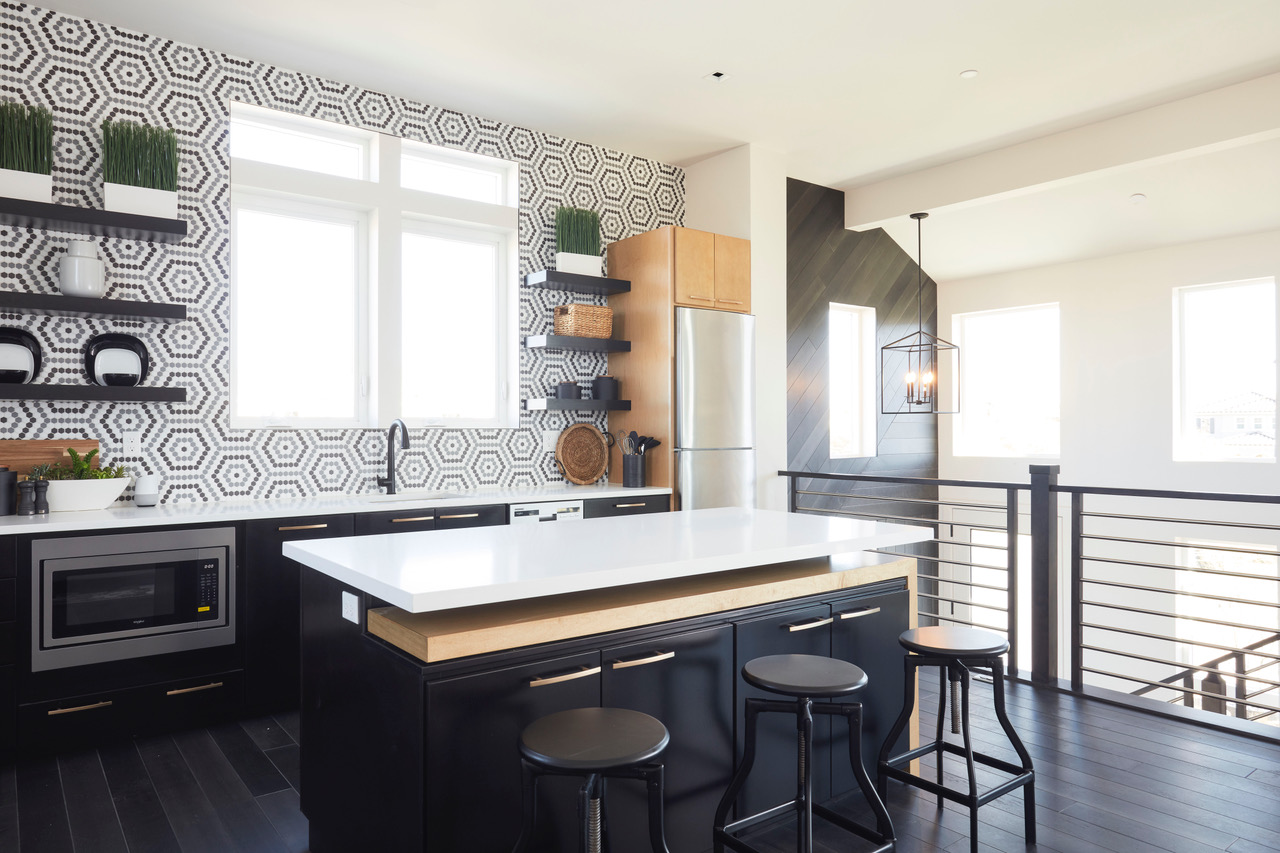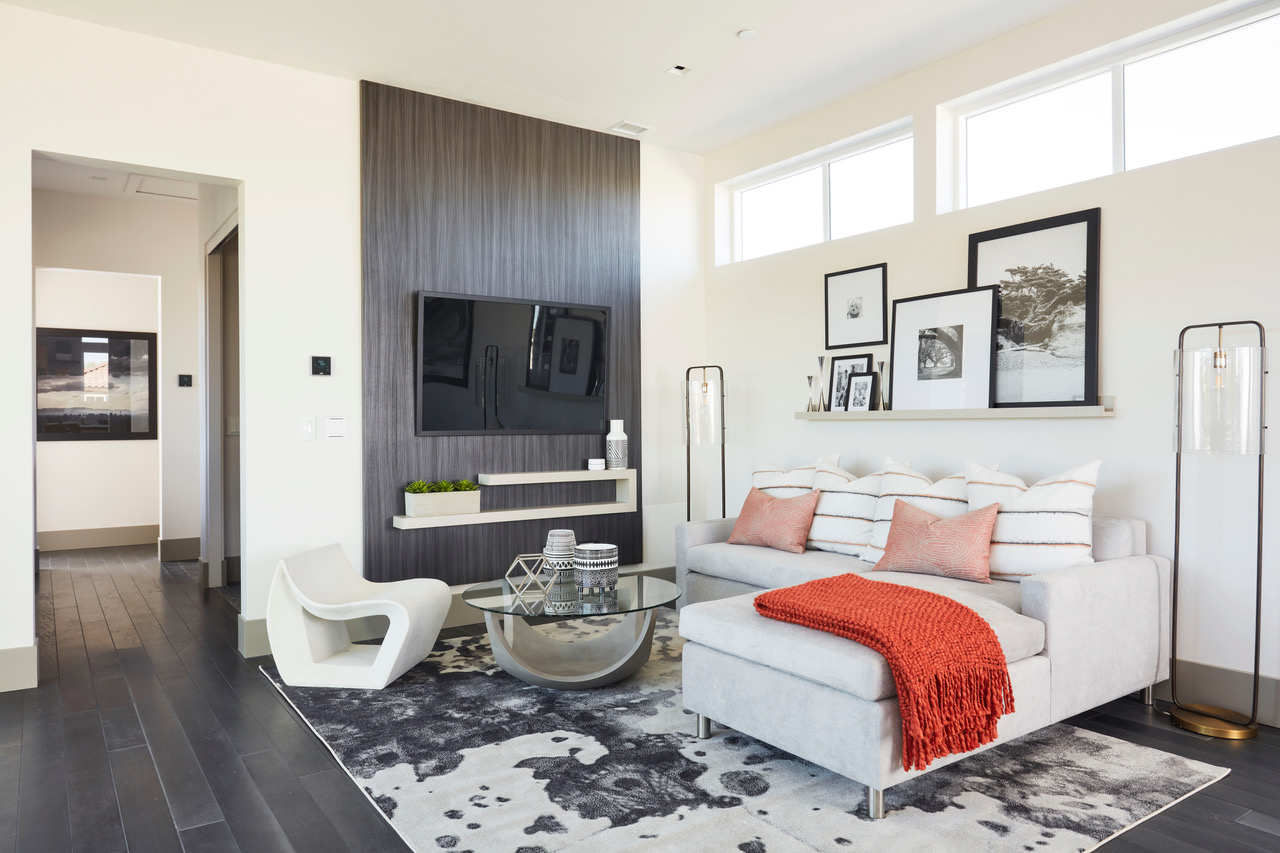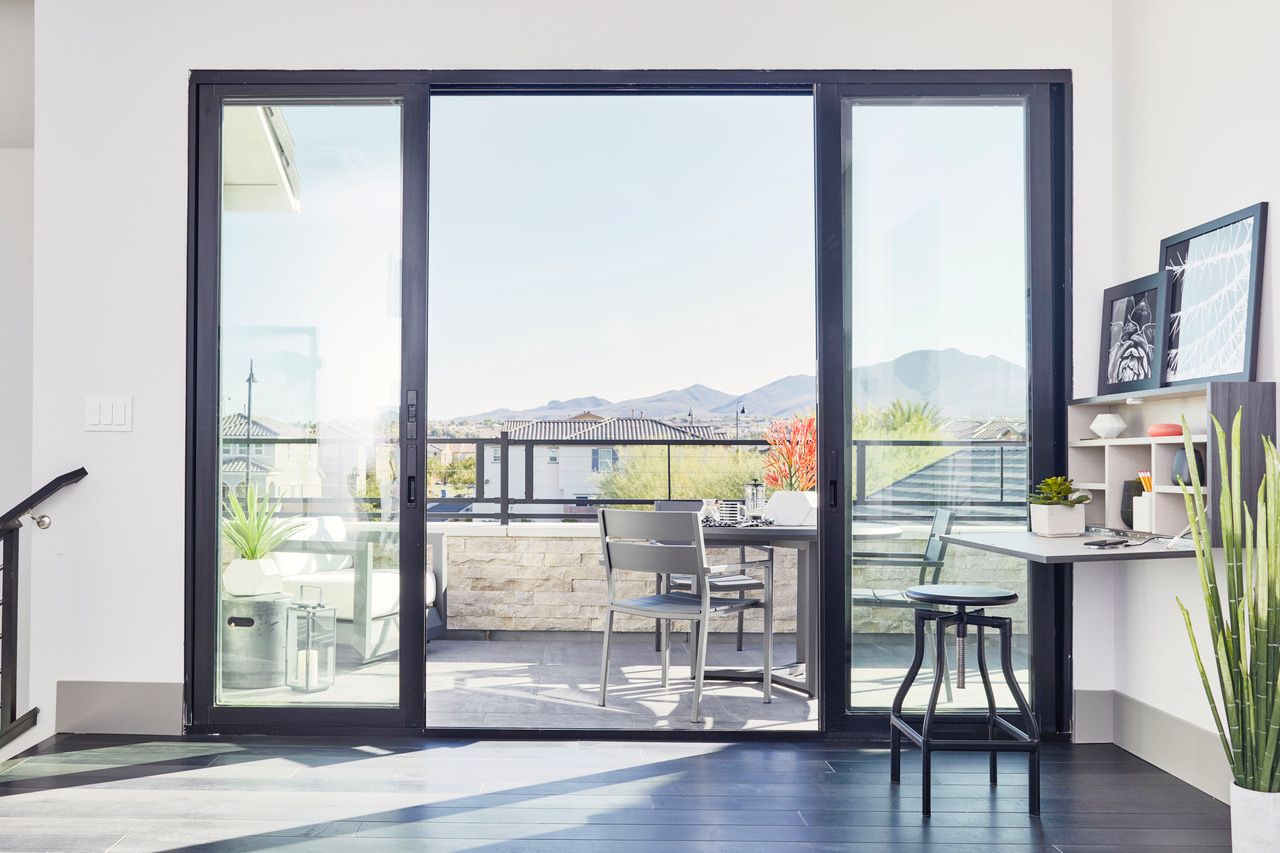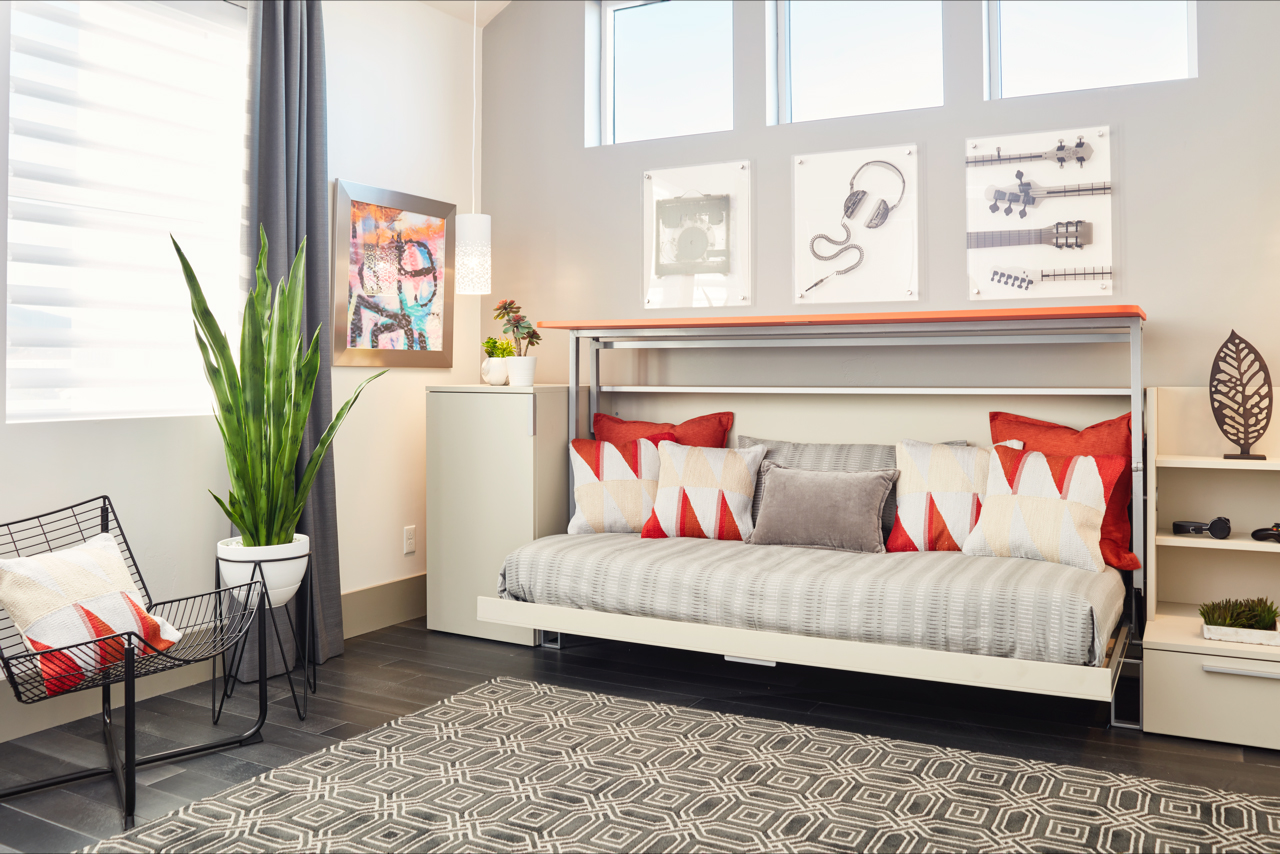 Smart Start

Kip Dawkins
If the kitchen is the heart of the KB Home ProjeKt, DARWIN by Delos is the brain that links all of its parts together. Integrated with the house's lighting, HVAC, and appliances—including the Whirlpool combination wall oven and convection microwave, which automatically sets cooking temperatures and times by scanning a food item's barcode—the first-of-its-kind system enables seamless communication among devices. To help simplify meal prep, the oven and Whirlpool refrigerator synchronize with the Yummly app to customize recipes based on dietary needs or the ingredients currently inside the pantry.
Also working behind the scenes to keep residents healthy in the kitchen is the QuFRESH mechanical ventilation system by Air King, which is equipped with built-in sensors that detect changes in air quality and intuitively adjust to refresh the air, even while cooking.
"In the kitchen, it's important to have everything within easy reach," says Manny Gonzalez, principal at KTGY Architecture + Planning, which is why the room's simple floor plan relies on design principles that promote physical health and safety, such as pull-out drawers that don't require the cook to kneel to remove items, and flooring that provides enough friction to help eliminate slip hazards.
Flex and Function

Kip Dawkins
Flexibility is key to making maximum use of a home's space and keeping it functional for a family's changing needs in the long term. The ProjeKt team exceeded this requirement with an innovative movable wall between the kitchen and den. With the click of a button, the wine rack–equipped wall pushes back to expand the kitchen's entertaining space for larger gatherings. When the wall is not pushed back, doors slide out from both sides to close off the room, which can serve as an office, yoga room, or extra bedroom.
This flexible space allowed KTGY to shave about 150 square feet off the home's footprint, thereby minimizing the structure's environmental impact. The double-duty layout also frees up more of the lot's square footage to be devoted to outdoor space.
On the den wall opposite the movable unit, the Penelope 2 Board by Resource Furniture combines a queen Murphy bed, integrated desk, and storage to maintain functionality and eliminate clutter. When pulling down the bed for use, residents don't have to move items off the desk or shelves because the unit keeps surfaces level as its parts retract.

Kip Dawkins
"In 2019, we're thinking about what people need as the bare minimum without being wasteful of any space," says KTGY's McCloskey, which is why his firm elected to showcase a flex feature that can be easily adapted to projects of varying scales and budgets. "The hard cost and installation time required for implementing such a wall can be done with the budget of a minimal upgrade," he says.
Circadian Rhythms

Kip Dawkins
In the master suite, DARWIN works with noon Lighting and Carrier products to add another layer of health-focused intelligence to the smart tech in the home. The system applies an algorithm that relies on the sun's patterns to provide or imitate daylight to wake residents in the morning and slowly ease them into slumber at night. It also gradually increases the bedroom temperature in the morning, drops it at night, and automatically lowers the window shades to filter out exterior light sources, all with the goal of a good night's sleep.

Kip Dawkins
"Since the lightbulb was invented, humans have been walking around in a state of twilight," says Paul Scialla, CEO and founder of Delos. "We get too little light during the day, and too much at night." The suite also houses a walk-in closet with floor-to-ceiling mirrors and a laundry sorting system that includes pass-through cabinets to the laundry room.

Kip Dawkins
In the master bath, Kohler's DTV+ digital shower system allows customization of water, steam, lighting, and music—all of which can be preset through a smartphone app.
Home Share

Kip Dawkins
As lot sizes shrink and the cost of living soars, designers as well homeowners are rethinking how people live in their homes. To "future-proof" the KB Home ProjeKt, KTGY implemented a lock-off unit on the second floor that features a compact kitchenette and living area, a bedroom, a full bath, and a discrete entry that makes it adaptable as the owners' living situation changes. The space can be used as a private unit—for a boomerang child, the owners' parents, or live-in help—or as a leasable unit listed via short-term rental sites such as Airbnb.

Kip Dawkins
Read more about this space here →
"It's designed to be flexible to expand and grow for a family that may need an extra bedroom, but the unit is also there to potentially generate additional income and help offset a mortgage," says KTGY's McCloskey. This unique approach blurs the line between condo living and a traditional house by combining multiple units onto a single-family lot, while carefully maximizing privacy among residents, even in the outdoor spaces.
Off the studio's main living area, the terraced balcony is rotated toward a different vista than the primary floor's California room and outdoor lounging space. Multipurpose features, such as the kitchen island that can extend to create a larger dining surface, make the space efficient for every day but also friendly for larger gatherings.
Beyond Efficient

Kip Dawkins
Inside and out, the KB Home ProjeKt is equipped with systems that work double duty to push the boundaries of construction innovation and make the dwelling feel comfortable for the various residents that may call it home. Thanks to its panelized shell and walls from prefab solution providers Entekra and MiTek Industries, the home was built with fewer on-site conflicts and minimal rework compared with a traditional dwelling. On the roof, solar energy is funneled into Powerwall batteries by Tesla to feed the home's electrical needs and networks.

Kip Dawkins
Throughout the second-story loft, thoughtfully selected furnishings and features—such as a trundle bed that folds in to become a study and tech station—frees the rooms from defined functions. Tech-wise, the integrated KB Home Smart Home system connects the doorbell, door locks, thermostat, appliances, light controls, window shade motors, and other personalized functionality through a Google Wi-Fi mesh network, powered by Google Assistant and activated through Google's Home and Home Mini smart speakers.
Bright Lights

Kip Dawkins
According to Delos' medically backed research, bright light from the sun, or light that mimics the sun's patterns, helps residents feel more alert. Plus, it can counter depression and anxiety, and has been proved to improve physical health. In the living areas of the second-story loft, wide clerestory windows and a light color palette set a serene living environment while optimizing the plentiful Las Vegas sunshine.
Living in the Open

Kip Dawkins
According to recent research by the University of Wisconsin, small doses of nature—even just a few minutes a day outdoors—reduce stress and boost positive feelings. But, says Scialla
of Delos, "we now spend 90% of our lives indoors and have thus lost 90% of our connectivity to the natural outdoors." To remedy this fact, the KB Home ProjeKt was designed with walls of windows to bring nature inside. Outside, a sizable patio off the master suite and great room offers al fresco dining and entertaining space.

Kip Dawkins
With wellness in mind, the designers included a hot tub and a semi-enclosed shaded area for yoga or other outdoor activities. Enveloped by greenery, an intimate dining nook toggles between the patio's covered and open-air space and features built-in bench seating along its wood-paneled enclosure that doubles as a privacy barrier that conceals the area from neighboring houses.
An outdoor grow wall—which was ranked as a most-desired feature by young buyers in the project's Farnsworth Group study—supports biophilic design as well as healthy and nutritious eating habits by offering the by offering the option to grow fresh herbs and vegetables. The pockets can also house decorative plants.

Steve Spatafore
Credits
Location Henderson, Nev.
Size 3,200 square feet
Builder KB Home, Los Angeles
Architect KTGY Architecture + Planning, Irvine, Calif.
Interior Designer KB Home, Los Angeles
Landscape Designer AndersonBaron, Las Vegas 
Market Research The Farnsworth Group