KTGY's Co-Dwell offers efficient living for all
REjournals
January 11, 2019
The co-living trend that has arisen in recent years is tightly bound to the behavior of millennials—whether real or perceived. But no entire generation of people born in the same era live demographically identical lifestyles, and the narrow focus of co-living up to now may be ignoring other opportunities.
With that as a starting point, The R+D Studio at KTGY Architecture + Planning sought out another strategy, one that improves affordability and quality of life while making co-living a viable concept for a larger swathe of people.
Co-living enterprises typically entice single millennials with single-occupant micro-units organized around larger communal areas. The efficiency that comes with co-living, according to KTGY, shouldn't be barred to couples and small families, so their design creates smaller shared kitchens and living areas for suites of up to four bedrooms.
"Co-Dwell's four-bedroom plan can accommodate a variety of household compositions which enhances the resident community, resource sharing and support network co-living can offer," said Aimee Ho, senior designer at KTGY.
Each Co-Dwell plan centers around a common kitchen and living room. A pair of private wings, each with two bedrooms and a shared bathroom, branch from the common area via individual entries off the walkway. These wings can also be closed off from the common area with sliding doors to create another layer of privacy.
Affordability
"The housing affordability crisis in America is a major issue on our minds as residential architects," Ho said. "The amount of affordable housing projects needed cannot be built fast enough, so the R+D Studio wanted to explore how building design and the way people live could create an attainable housing model to address this national crisis."
There isn't a municipality in the nation, according to research by the National Low-Income Housing Coalition, where someone making minimum wage could afford the fair market rent. This affordable housing shortfall is one of the reasons that co-living has grown in popularity, but restricting it to single individuals is cutting out those who may be most vulnerable.
"The need for more housing in urban areas is clear and Co-Dwell could be another option available in the market," said Ho. "While much of the focus of recent development has been on high-end residential or tax-credit affordable housing, the need for market-rate housing that addresses the challenges of affordability has been often difficult to resolve. We felt it was important to design a high-quality solution that addresses both the individual experience and the community aspects of providing attainable housing."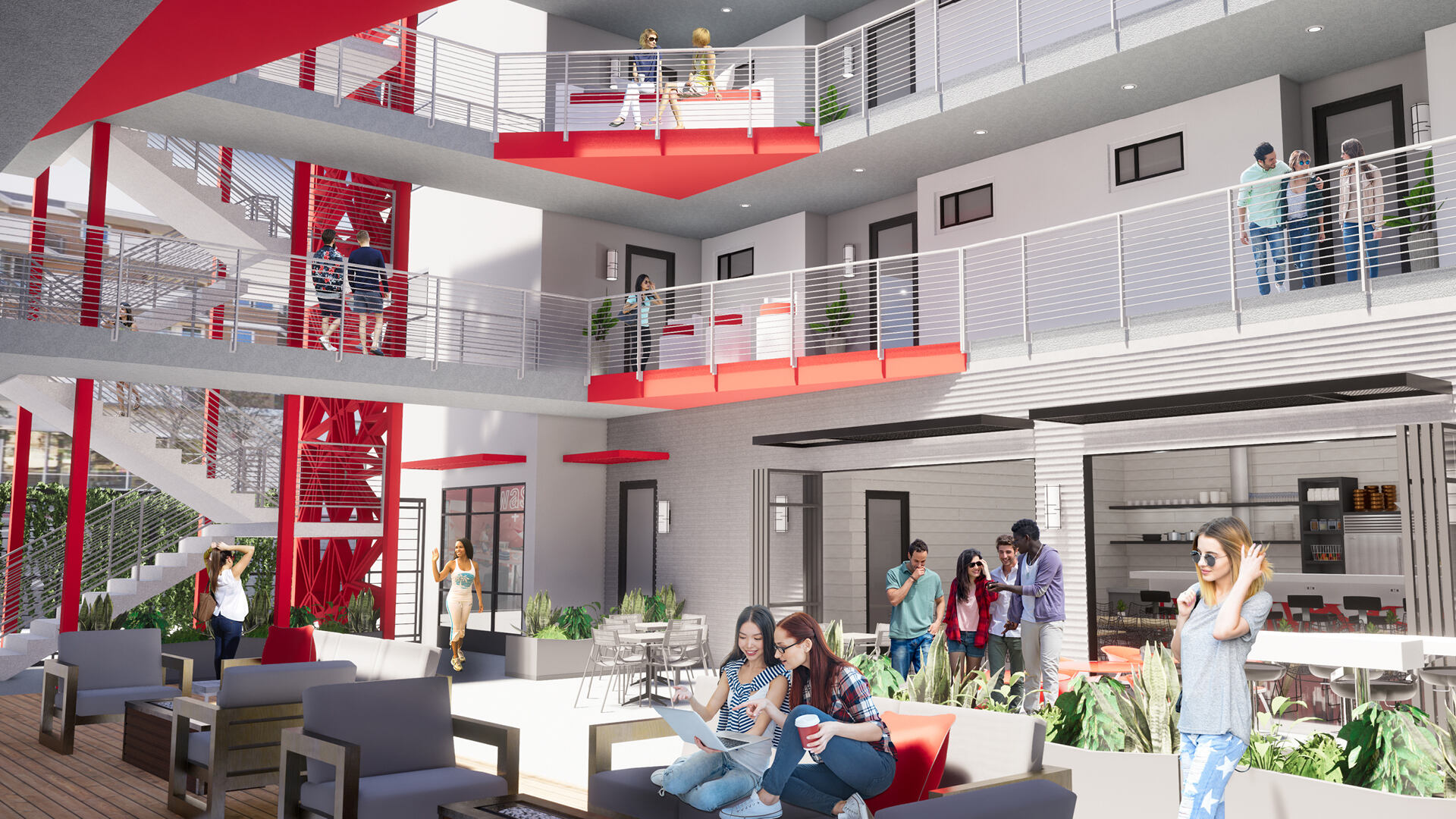 Community
That sense of community is another strength that Ho believes propels the Co-Dwell concept beyond conventional co-living systems. The units can accommodate more residents, but the design also calls for larger communal spaces serving the entire building.
"The Co-Dwell building design orients the residential units internally towards the common courtyard, and walkways are vertically connected with open stairways," Ho said. "The transparency of the horizontal and vertical circulation provides residents a visual connection to their neighbors, encourages social interaction and creates an enhanced sense of security."
In the KTGY plan, shared amenities are located on the first floor and the residential units are located above. A portion of the ground-floor amenity area is designed as a flexible community interaction space that can be opened to the surrounding neighborhood as well as residents.
The overall concept is a 21st Century reimagining of the courtyard buildings that were prominent around the beginning of the 20th Century. Those, too, served workforce communities.
"When exploring the building design, the courtyard layout seemed to lend itself well to the Co-Dwell concept. By having the residential units and interior walkway orient around the common courtyard, the concept of community formation is designed into the building," said Ho.
On residential floors, open stairways and interior-facing walkways promote social interaction with neighbors and help to create a sense of security and community. Pockets of seating are designed on each level to encourage social interaction among neighbors.
"Common areas are visible from all floors and equally accessible by all residents," said Ho. "Open walkways are not just a path from point A to point B, but a place to get to know your neighbors."
The Co-Dwell solution is intended to reduce costs for more demographic groups, including multi-generational families. Most importantly, it targets those in the "donut hole" between subsidized housing and high-end luxury.