Luminaira & Espaira – Grand Opening of First Two Affordable Family Apartment Communities in Great Park Neighborhoods in Irvine
PRISM
October 30, 2017
KTGY Architecture + Planning Continues a California Legacy of Clean Lines, Elegant Proportions

IRVINE, Calif. – International award-winning firm KTGY Architecture + Planning is proud to announce its participation in the first affordable housing communities for low-income families in Irvine's master planned community of Great Park Neighborhoods, which celebrated its grand opening on October 27, 2017. Luminaira was developed by FivePoint Holdings, LLC, Related California and RCC Charitable (Riverside Charitable Corporation).  Espaira was developed by FivePoint, Related, and ETHIC Housing Trust (El Toro Housing Initiative Collaboration). FivePoint's partnership (Heritage Fields, LLC) is the master developer of Great Park Neighborhoods.

Designed by KTGY, Luminaira and Espaira communities offer a total of 166 affordable apartment homes for low-income families along with a 4,000-square-foot leasing and social services center, complete with kitchen, media lounge, computer center, mailroom and play area. Other amenities include pool, barbeque and picnic pavilion, and dog run. On-site services include after-school programs and educational classes.
Award-winning Solaira at Pavilion Park, which celebrated its grand opening in November 2015, was the first affordable-housing community for seniors in the Great Park Neighborhoods – and the first to open in Irvine in 20 years. Solaira, a 221-unit senior apartment community, is LEED Gold certified and was a collaboration between FivePoint, Related and RCC Charitable. KTGY was the design architect for all three communities — Solaira, Luminaira and Espaira.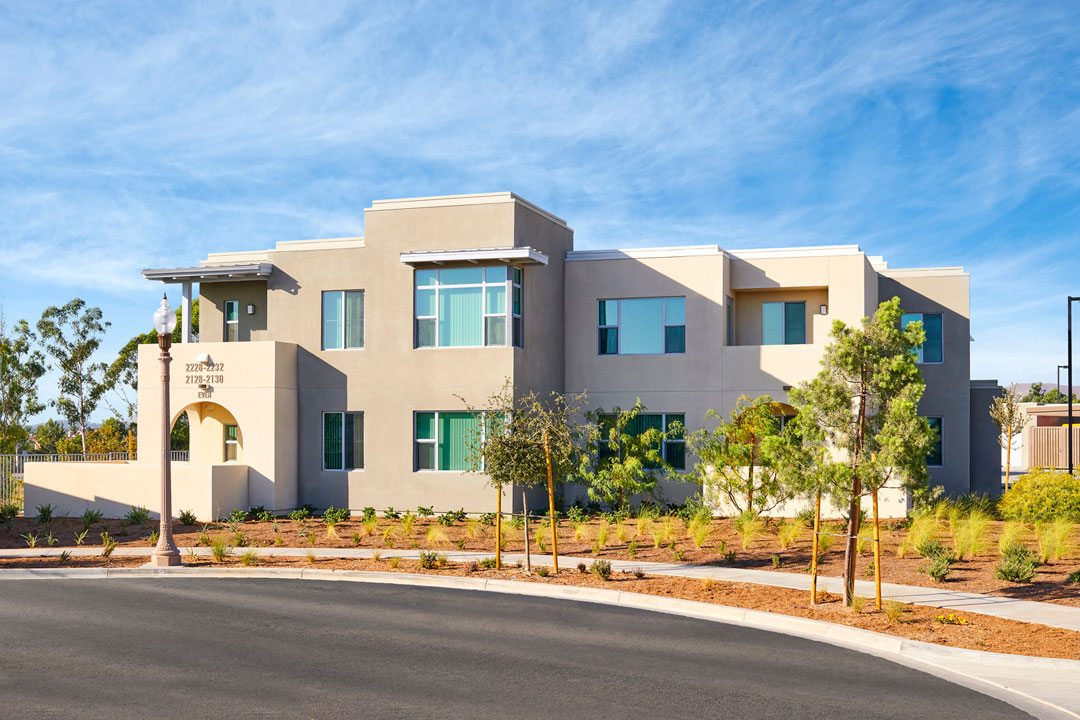 Espaira, Great Park Neighborhoods, Irvine, Calif. Credit: KTGY Architecture + Planning
According to KTGY Principal David Obitz, the design of Luminaira at Parasol Park and Espaira at Parasol Park was inspired by the architecture of Irving Gill and boasts clean lines and a neutral color palette, welcoming residents and guests with arched entries that establish a sense of arrival. The stacked-flats feature tuck-under garages to maximize outdoor space and community areas as well as provide additional parking for guests. There is also electrical vehicle parking.
"The primary goal of the architecture was to create a sustainable neighborhood that is indistinguishable from market-rate housing and seamlessly integrated into the master plan community," said Obitz. "The design is modern and continues a California legacy of simple, clean lines and an efficient structure with elegant proportions. The well-appointed apartment homes have nine-foot ceilings, which is similar to market-rate homes but not typically found in affordable apartments."
According to Obitz, these communities will provide exceptional sustainable living at below-market rental rates and offer families access to schools in the award-winning Irvine Unified School District, community services, shopping and entertainment. Luminaira and Espaira are conveniently located to the 133, 241, 5 and 405 freeways, transportation and employers.
Both communities offer spacious two- and three-bedroom floor plans ranging in size from approximately 809 – 1,129 square feet. Each apartment home features a fully-equipped gourmet kitchen with Energy Star refrigerator and dishwasher, solid-surface countertops, hardwood plank-style flooring, ceiling fans, large closets, some paid utilities, and outdoor private space. The apartments also come with a one-car garage.
Obitz reports that both apartment communities have been designed to achieve a Gold certification level in the GreenPoint Rated system administered by Build It Green, a non-profit organization whose mission is to promote healthy, energy and resource efficient buildings in California.
"FivePoint and Related are known for their high-quality living environments and Luminaira at Parasol Park and Espaira at Parasol Park will be a tremendous asset to the City of Irvine and the families that live here," said Obitz. "Luminaira and Espaira will offer families a beautifully-designed, environmentally-friendly residence with great amenities and a variety of available social services to enhance their daily lives."