Oakwood Olympic & Olive – Corporate Housing Giant Oakwood Makes a Big Downtown Play
Los Angeles Downtown News
May 16, 2017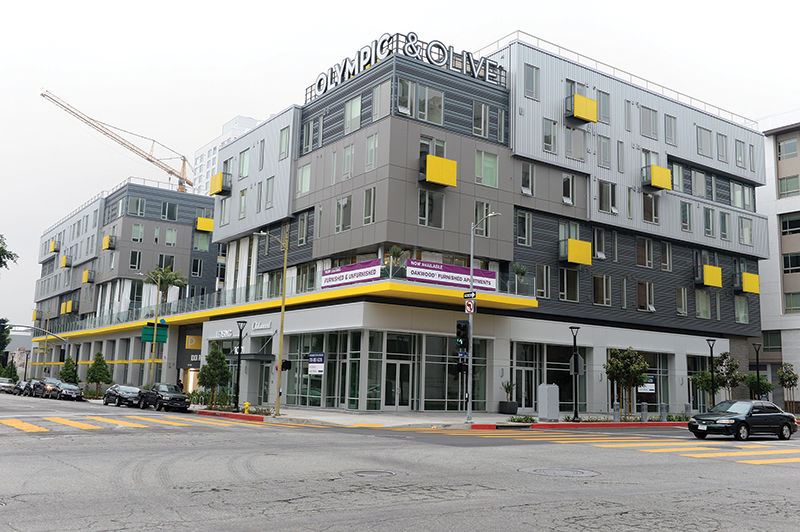 Photo by Gary Leonard
DTLA – From the outside, the apartment building at Olympic Boulevard and Olive Street looks like many of the residential complexes that have opened in South Park in the past few years. It stands seven stories tall and there are balconies on many units. The ground floor will hold a Starbucks.
The amenities are also in line with other area projects: There is a pool, a business center and so on.
One big thing sets the project apart, and that's the fact that a large number of the occupants of the apartments will likely only stay for a few months, and maybe less. While that lack of longevity may not establish involved Downtown stakeholders, it does provide a business niche.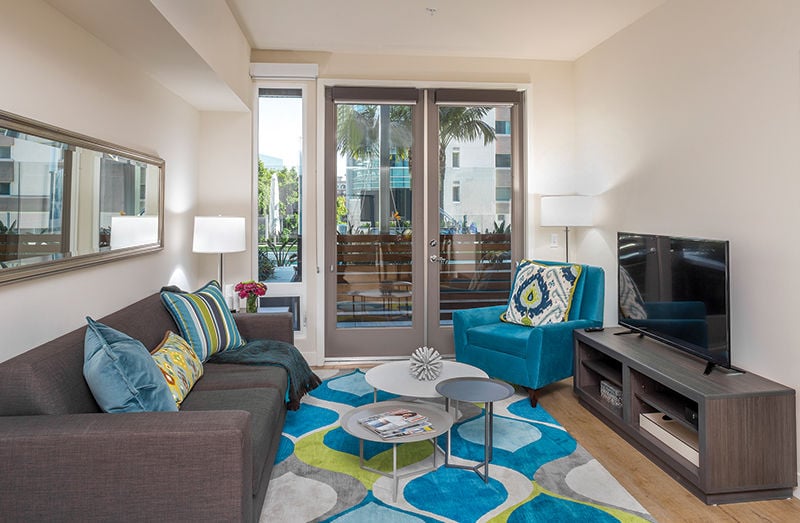 The project was originally developed by the national real estate firm Lennar as a conventional apartment building. During the development process, extended-stay giant Oakwood Worldwide got involved, and the plan morphed to include some corporate housing.
Then, in April, Mapletree Investments, the Singapore-based parent company of Oakwood, acquired the building from Lennar (the price was not disclosed). Although Oakwood has local holdings on Wilshire Boulevard, and in Marina Del Rey and Toluca Hills, this is its first property in Downtown Los Angeles, said Matt Lopez, regional manager with Oakwood.
Lopez said that Mapletree decided to acquire the building after witnessing market demand for corporate housing in Downtown. He said Oakwood heard the same thing from its clientele.
"This was something our customers were telling us they needed," Lopez said. "It fits all of our strategic objectives. We achieve a lot of efficiencies with having our own building."
The Oakwood Olympic and Olive building opened on April 18. The project at 1001 S. Olive St. was designed by KTGY Architects.
The building holds 201 apartments, with 12 townhouse-style units. The studio to two-bedroom residences range from 475-1,229 square feet. All units have wood floors, stainless steel appliances, white quartz countertops and a washer and dryer.
The project is opening with about half the building holding traditional apartments and half as furnished corporate housing, Lopez said. The goal is ultimately to increase the extended-stay component to 70%, he added.
The corporate housing is aimed at business consultants working in the Financial District, or people in the entertainment industry who come to Los Angeles for short-term engagements, according to Laura Williamson, the building's property manager.
There is a one-month minimum for corporate housing, with a cost of $159 per night, or $4,770 a month.
The extended-stay residences are furnished with kitchen items such as cutlery and coffee machines. There are couches and TVs, and art on the walls.
In keeping with the business focus, the building has co-working and office spaces on the fourth floor. There are also private rooms that people can reserve, plus a room with a printer, fax machine and other services for business travelers.
Lopez said that Oakwood has similar centers at its other properties, but not built out to the extent of the Olympic and Olive complex.
"It's something that does cater to the corporate and conventional," Lopez said. "So many people work from home, so being able to get out of the apartment and still have privacy is something people are looking for."
Oakwood is perhaps the biggest name in corporate housing, with projects in New York City and Chicago, plus dozens of cities in Europe, the Middle East and elsewhere. In Downtown, however, they come to market after Onni Group's Level Furnished Living, which opened at Ninth and Olive streets in 2015, and TenTen Wilshire, which debuted in 2008 at Wilshire Boulevard and Beaudry Avenue in City West.
There is a room in a growing Downtown for this kind of project, according to Hamid Behdad, head of the Downtown-based Central City Development Group (Behdad helped develop TenTen Wilshire through CCDG). He noted that existing corporate housing projects have drawn legal and insurance workers, as well as people relocating to Los Angeles and even some families.
"I've seen people rushing to use these for vacation," Behdad said. "It's still cheaper than a hotel."
For traditional apartments, studios start at $2,245, while one- and two-bedroom units begin at $2,744 and $3,898, respectively. Olympic and Olive is offering six, nine, 12 and 15-month leases; parking is included for the first year (the building has 208 stalls).
The conventional apartments and corporate housing units are interspersed throughout the building, with no separate wing or floor for the different types of housing, Williamson said.
Amenities are split between two floors, and are available to all inhabitants, whether permanent or short-term. The seventh floor holds a deck with grills, a pool table and a lounge. The third floor features a fitness center, an outdoor pool and an outdoor dog run.
Oakwood expects demand and occupancy of the corporate units to ramp up over the next two months, as Williamson noted summer is one of the busiest times for corporate housing. The conventional leasing should be at a peak level by October, she added.