Smita Anand – Designing With Cultural Awareness
Professional Builder
March 4, 2017
Racial and ethnic diversity will continue to grow and define the United States population into the future. According to the Pew Research Center, by 2055 the nation will not have a single racial or ethnic majority, and most of the population growth is expected to be linked to new Asian or Hispanic immigration.
This isn't a pattern that home builders and designers can afford to ignore. Right now, the influx of multicultural buyers is most noticeable in major urban centers such as Houston, Los Angeles, New York, Seattle, and Washington, D.C. Pew indicates that Asia has replaced Latin America, including Mexico, as the biggest source of new immigrants, a fact borne out by the sources consulted for this article. (The term "Asian" is used here to connote Chinese, Japanese, Taiwanese, Vietnamese, and similar origins, while "East Indian" encompasses Pakistani and other South Asian nationalities.)
New homes must offer flexible floor plans that allow buyers to assign specific purposes to their living space. Options for such features as prep kitchens and full multigenerational suites are essential. In some locations, buyers may prefer elevations that are more traditional than contemporary. It may also mean that most or all of a builder's floor plans are designed according to feng shui, the Chinese art and practice of creating harmonious surroundings, or vaastu shastra, a traditional Hindu system of architecture.
The New Home Company in Aliso Viejo, Calif., takes the position that good design usually dovetails with many cultural principles. "For instance, vaastu teaches us to build in harmony with nature and focuses on balancing energy inside the home," says Joan Marcus-Colvin, chief marketing officer. "Our open floor plans and constant attention to indoor/outdoor living supports these beliefs."
Smita Anand, principal of KTGY Architecture & Planning in Tysons, Va., cautions builders and developers to not restrict offerings and lots for the sole purpose of appealing to specific cultural groups. "You have to have a diversity of product so that you're not creating cultural pockets," Anand says.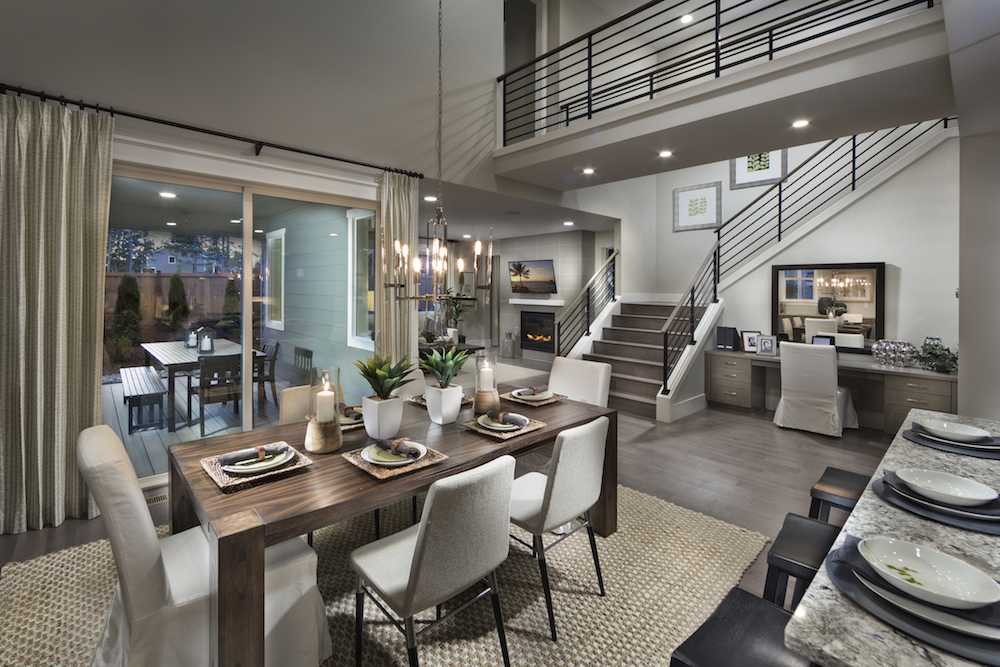 One of Quadrant Homes' most popular floor plans has a skybridge separating the homeowners' bedrooms from the guest suite, which can be locked off for more privacy. Photo: Jeffrey Aron
Asian influx in the Pacific Northwest
Asians are gravitating in large numbers to the Pacific Northwest, particularly to high-paying tech jobs in Portland, Ore., and Seattle.
Vic Remmers, president and owner of West Hills Homes Northwest in Portland, notes, "Intel has a strong presence here, as well as Nike. And Portland offers a good quality of life."
West Hills is a local builder that constructs single-family homes and multifamily apartments for entry-level and move-up buyers. "We build in neighborhoods that have excellent schools because that's a big draw for multicultural buyers," Remmers says.
His customers, who are primarily Asian and East Indian, have some specific preferences including:
Rectangular lot
East-facing front elevation
Kitchen located away from the front entry
Cooktop facing east; sink facing northeast
Stairs that do not directly face the front door
Front door that does not align with the back door
Master bedroom isn't located over the garage
Main-level bedroom and bath
Smart-home technology (think wireless boosters and prewiring for surround sound) is very desirable, as is sustainability, Remmers says.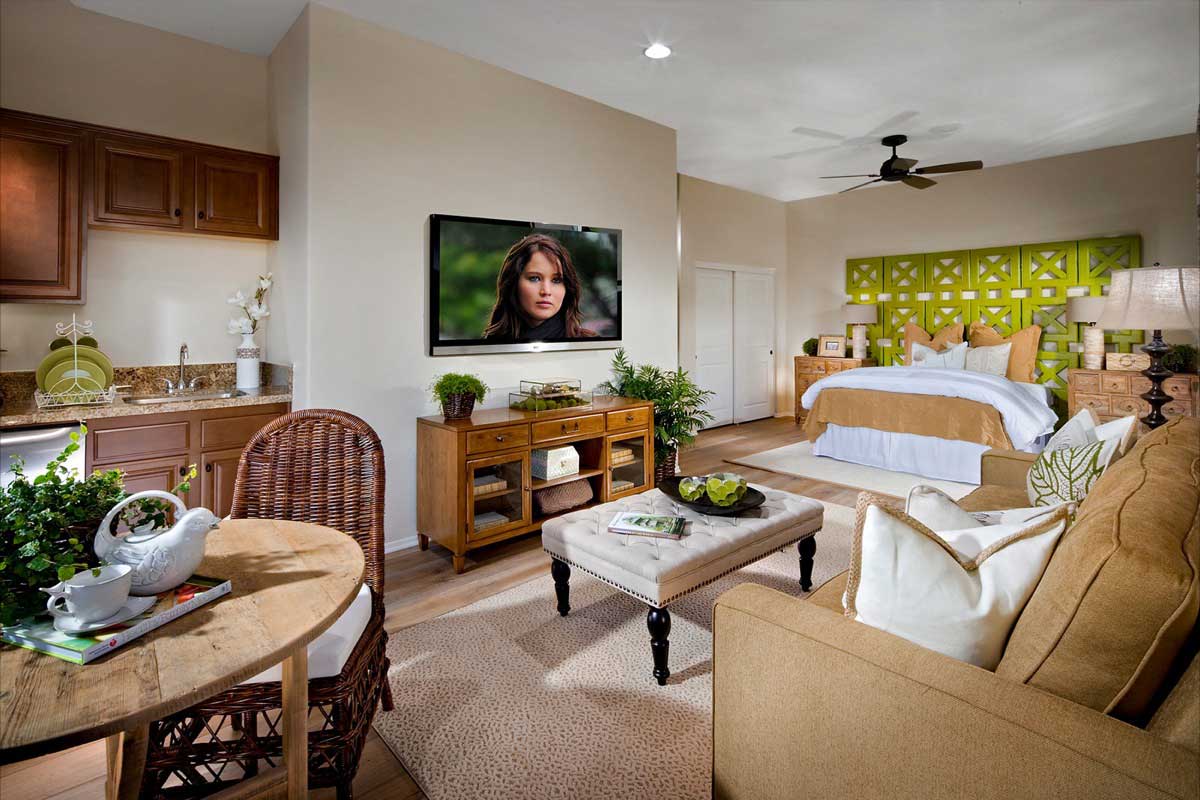 Brookfield Homes offers this optional living suite at Big Sky at Audie Murphy Ranch in Menifee, Calif. The suite is located within the house but has its own side entrance, giving live-in parents or guests privacy whlle staying connected to the household. Photo: Eric Figge
Bellevue, Wash.-based Quadrant Home has designed several floor plans, aware that many families are now multigenerational or have family members living abroad that visit for prolonged stays. Quadrant's flex options allow buyers to choose, for example, a guest suite on the first floor or extra bedrooms upstairs.
The builder has worked with a vaastu shastra consultant on its floor plans and completed homes. "We have optimized our product and design to appeal to multicultural buyers," says Quadrant president Ken Krivanec. "The [predominant] architectural style is Northwest contemporary, which resonates well with them."
While lot orientation is important in Vaastu, "You can only have so many east-facing homes in a community," Krivanec says. "So our consultant helps 'balance' the home post construction, and that takes some of the anxiety out of the process. It's a holistic approach to design."
Customization for the East Indian market
Houston-based Partners in Building has a demanding clientele that includes a large percentage of East Indians. "Houston is incredibly diverse from an ethnic/racial/religious standpoint," says Jim Lemming, president. "We really are kind of a plurality, I guess." While Hispanics have long been a substantial part of Houston's population, Asians and East Indians are overtaking them in numbers.
Partners in Building constructs more than 200 homes a year, with an average price in the mid-$800,000s. Both Hindu and Muslim families are purchasing these houses.
"We see a lot of requests that are [related] to either [ethnicity or religion]," says Lemming.
One common request, especially with Hindu buyers, is for a prayer room, also known as a pooja or puja room.
"It's typically a small room on the first floor, preferably in the northeast or northwest corner," he says. "Sanitary drains cannot be adjacent to or over the prayer room. If it's a two-story house with bedrooms and bathrooms upstairs, we have to be careful about how [the spaces flow]."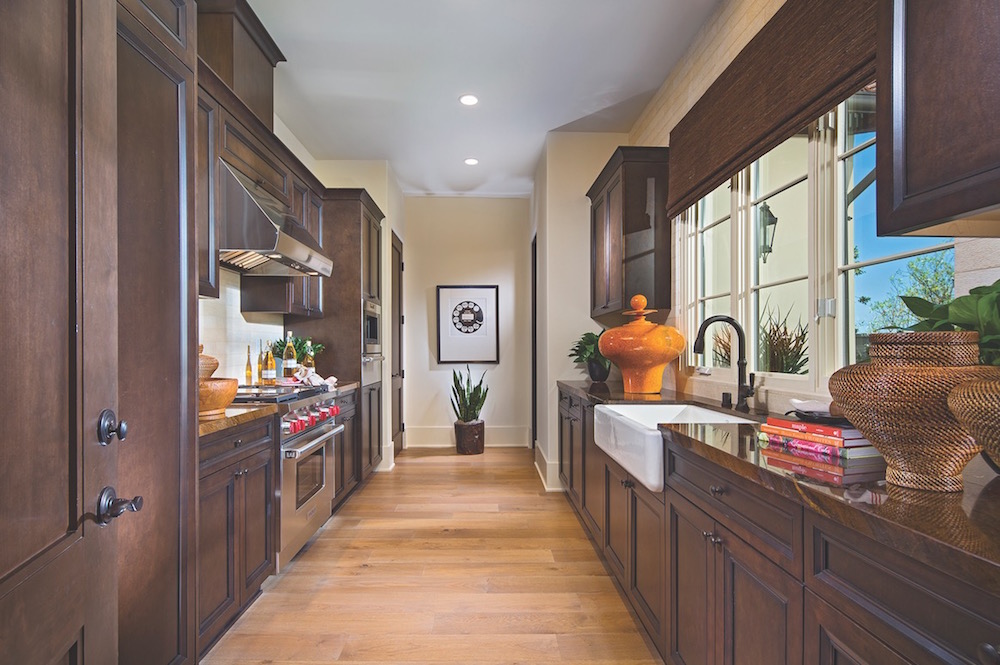 A prep kitchen, also known as a wok, spice, or dirty kitchen, os a popular option in larger homes as it allows the owners to keep the main kitchen looking pristine. This one is by The New Home Company. Photo: Eric Figge
Building on cultural infrastructure
In the last few years, The New Home Co. has been focusing on areas that have top-rated schools, such as Irvine and San Jose, Calif. "What I call the cultural infrastructure is in place in these communities, meaning Asian restaurants, Asian grocery stories, and Asian businesses," says Marcus-Colvin. "It's the same with the East Indian population."
Regardless of ethnicity, the multigenerational suite is still a popular option because families want flexibility. "They want it for returning college kids or visiting parents or elder care," she says, and when budget and square footage allow, the builder offers a prep kitchen as either an option or a standard feature. Music rooms and dedicated study spaces have also proven to be popular with multicultural buyers.
"In one neighborhood, we had a significant number of Middle Eastern families and knew they would appreciate multiple entertaining spaces [such as] a formal living room and a formal sitting area," Marcus-Colvin says. "The buyers could utilize those areas as they saw fit — a space for the women and a space for the men. [Yet the home] was so flexible that it wouldn't offend any other buyer."
To put it another way, "One family's prayer room is another family's gym with exercise equipment," Marcus-Colvin says. "But we do try to get at least one bedroom downstairs regardless of square footage, because that space lends itself to the most flexibility."
Feng shui becomes the norm
Dahlin Group Architecture | Planning has been practicing in mainland China for almost 17 years, and routinely adheres to feng shui principles in all of its designs.
"In every location on the West Coast that has had an influx of Asian buyers, the awareness of feng shui is high enough so that every house has to respect it, or you have to have a darn good reason not to," says Don Ruthroff, principal and director of neighborhood residential in Dahlin's Pleasanton, Calif., office.
Ruthroff starts every new design by considering the position of fire and water elements in the kitchen (the cooktop and sink must be offset). Stairs should not directly face the front door because the family's luck will flow downstairs and out of the house. For the same reason, the front door should not align with the back door.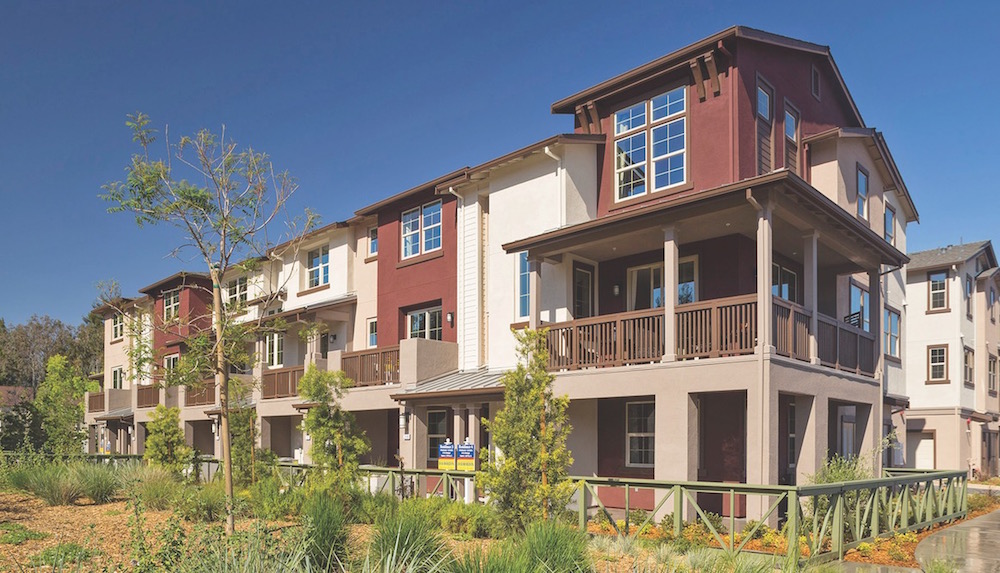 These townhomes by D.R. Horton meet the needs of multicultural buyers with a bedroom and bath on the same level as the garage. Photo: Donald Stasenka Photography
Multigenerational living spaces top the list of preferences among Asians and East Indians in San Francisco's East Bay. "We find that to be true at every density level," he says. "A majority of the plans have to have at least a bedroom and a bathroom on the first floor. In what we call detached townhouses, where the first floor is mostly garage, I try to get a bedroom and bath on that level as well."
New homes in the 2,000-square-foot-and-up range "always have at least one plan with a true multigenerational suite. It may either be a standard feature or an option that captures a secondary bedroom or a single-car garage bay to create both a sitting room and a bedroom, sometimes with an exterior door."
In locations where the buyers are expected to be heavily Asian (70 percent or more), Dahlin brings in an expert to review the floor plans. "The wealth center is in the upper left-hand corner of the plan, and you've got to keep the bathroom out of that area because the family's wealth will go down the drain," Ruthroff points out.
Prep kitchens are typically not included unless the home is 4,500 square feet or more. Ruthroff designed a floor plan where the family entrance from the garage was reorganized to accommodate a prep kitchen. The main kitchen is more of a showpiece for the home.
In Ruthroff's experience, Asians who are emigrating to the U.S. prefer traditional architecture over contemporary styles. They dislike ultra-modern architecture, he says: "I think it's because they were living in very modern buildings in Asia and what they want is a traditional American home."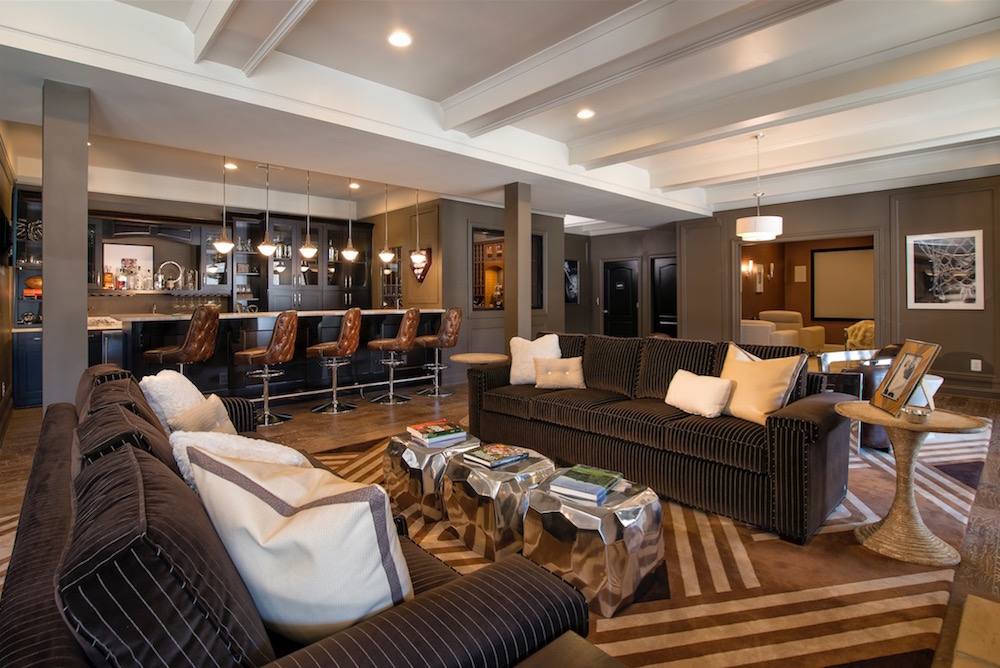 Quadrant Buyers Speak Out
Bellevue, Wash.-based Quadrant Homes reached out to a group of Chinese and East Indian buyers "to understand what their customer journey looked like and what was important to them," says Michelle Pruitt, marketing director.
• While vaastu shastra design "wasn't necessarily a deal-breaker," the traditional Hindu system of design was definitely an area of concern because extended family members were involved either in the purchase decision or the discussion, Pruitt says.
• "Modern" means something entirely different to these buyers, according to Pruitt. Rather than design style, "It's more about being new and up to date with the latest features and functionality, such as smart-home technology and environmentally friendly construction."
• The No. 1 design feature, not surprisingly, was a guest suite on the main floor. Although only one buyer expected to have a parent live with them, all expected extended visits of three to six months.
• Also among the top five features was an office or study on the first floor to either increase home value for future sale, or to work from home (telecommuting is prevalent in Seattle).
• A powerful range hood was desired to remove strong cooking odors from the kitchen and to prevent them from permeating the home.