Stefanie Hajer – For Stefanie Hajer, Hospitality Branding Is An Immersive Experience | Podcast
A Hotel Podcast
October 17, 2023
The Creative Brand Director, Interiors goes deep on multiple projects from KTGY Simeone Deary Design Group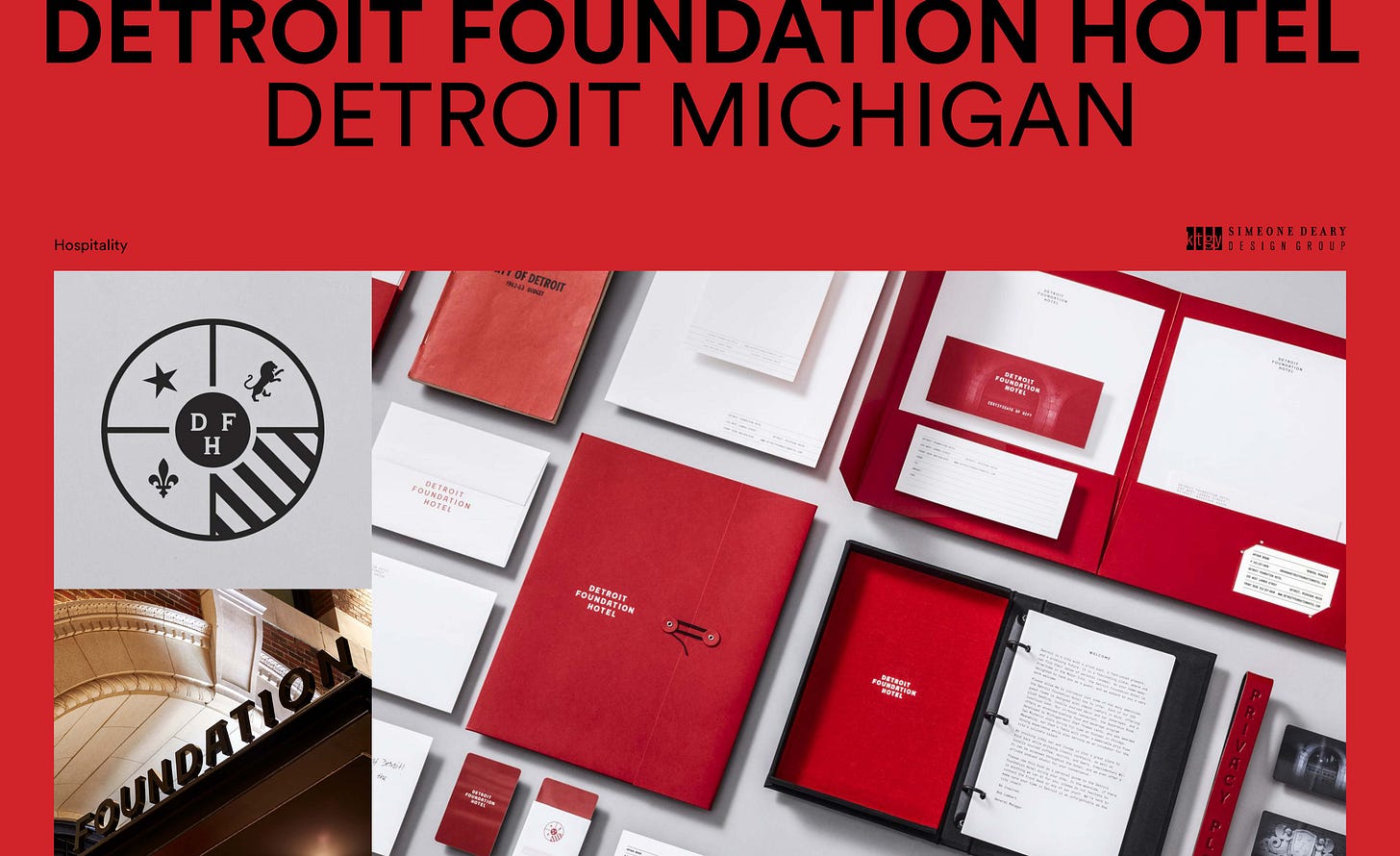 Detroit Foundation Hotel
Locations: Chicago, IL, Detroit, MI
At a time when the word "branding" has become ubiquitous among LinkedIn thought leaders and industry conference panelists, one hospitality professional feels the conversation has caught up to what she already knew.
"I have to say, I don't think the term has changed for me. I think everyone has realized what it means," Stefanie Hajer tells A HOTEL PODCAST. "I've always been immersed into what a branded environment means, because I had great mentors. I had great mentors from afar. Inspirational people that started doing that very well and promoting that appropriately, especially in the nineties. I mean, it's been probably going on forever and you could probably dial back to many different experiences. I think that people are catching up to what a brand means beyond a typeface and a logo."
In her role as Creative Brand Director, Interiors at KTGY Simeone Deary Design Group, Hajer draws on a passion for all things design, including interior and experiential. It's a skill set that connects to the Chicago-based firm's work with hospitality partners.
"My role is to come in as a brand ambassador," Hajer explains. "Essentially, we have a whole slew of things that we're good at skill wise, but firm-wide, we do beautiful environments. We design great architecture, interiors, but from multiple sectors. So could be residential, it's hospitality, it's restaurants, it's bars, it's student housing. It's all of those things firm-wide. But I am…head of the discipline of branding. And if a client needs a little more than just thinking about their architecture or just thinking about their interior and finishes, (we're) coming in and adding in that story. The storytelling, but also understanding what their brand is, what their mission is, what their goals are, and developing and really keeping the entire project in line."
It's an approach that carries through on projects like KTGY Simeone Deary Design Group's work on the Detroit Foundation Hotel, a reclaimed firehouse in downtown Detroit that now stuns as a lux and vivid boutique hotel. As Hajer reveals, that specific project was a personal one for the agency.
"I think the process was the most emotional…probably for the design team and even (Simeone Deary Co-Principal) Gina Derry, who is from the area (and) put a lot of heart and soul into it. Being from there, remembering the city as it was. What it became and now what it is becoming and a lot of that went into the process of design."
The Detroit Foundation Hotel isn't the design agency's only project in Detroit. The firm also worked on two F&B concepts in the city: the Japanese-influenced Basan and Revel Steak, located in the MotorCity Casino Hotel.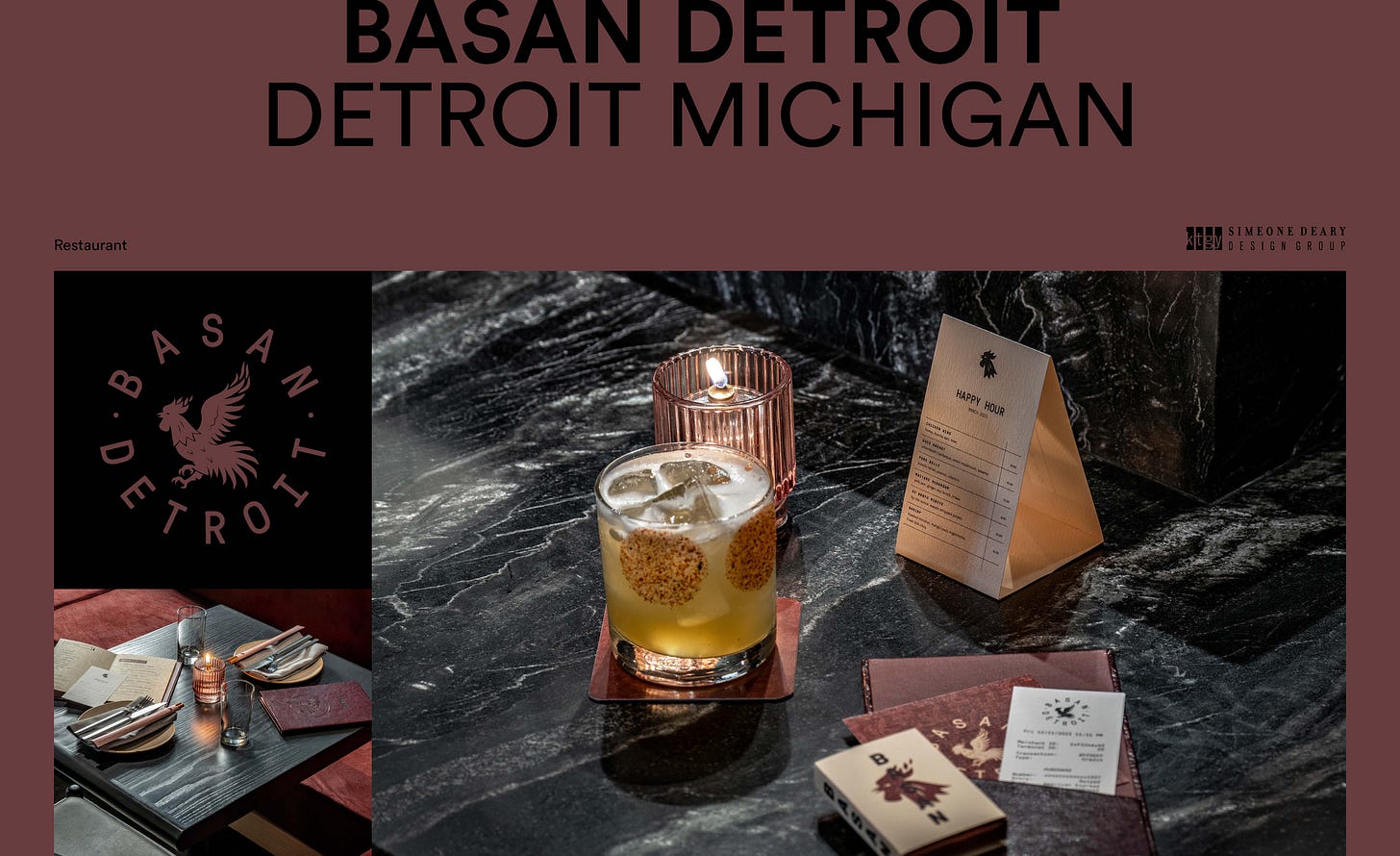 Basan Detroit
"The food is very approachable," Hajer states about Basan. "It is a very approachable environment and the design is very, very clean and simple and we brought that all the way through the branding. They do a really good job of inviting a guest and you have cocktails on the right and a very Japanese inspired lounge with beautifully custom fixtures and furniture to feel that way. And then on the left, you have this really approachable yet exquisite dining experience."
A different dining presentation awaits at Detroit's Revel Steak, which connects to the celebratory nature of a night out at the MotorCity Casino Hotel, as Hajer details.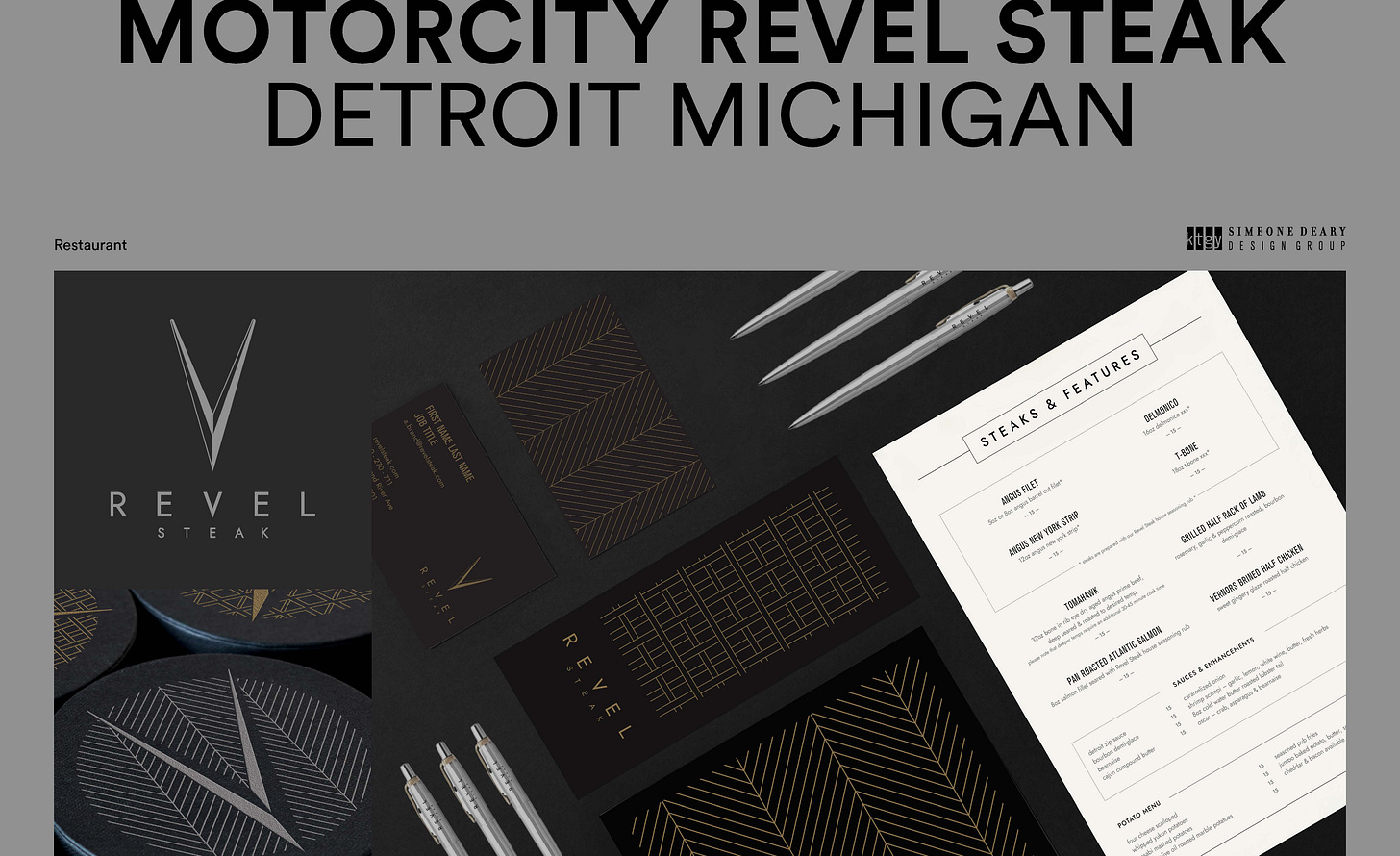 Motorcity Revel Steak
"It's really the name Revel was something we were able to establish with, very closely, with the design team, the client, everyone involved. And it really is about that celebration, that reveling in your experience of the casino. Maybe it's reveling in your community, your conversation. That buzz, you know, that sort of intangible buzz. Maybe it's, you won big and you're reveling in that. You know, so it really is…a place to be celebrated. Great steakhouse in a casino? Absolutely. At the same time, I think it's gonna be a very, again, yet again, an approachable experience. It's like an approachable luxury is what we really want it to feel like."
Back in the agency's home of Chicago, Kindling, located inside the Willis Tower, caters to a variety of visitors in the heart of the city's business district. The F&B destination has a lot to offer, as Hajer shares.
"You've got a celebrity chef (Jonathon Sawyer). You've got that wonderful wood fired situation going on. You can go in as a family and eat very comfortably, but you could bring your business group in also in the private dining room very wonderfully and get some really good food and cocktails. In terms of branding, we wanted to be very playful. If you've been there, the proportions are huge. The signage is huge. The lighting is huge. The moments are big, but it's very successful because you can really get what you need depending on your guest, like if you're a visitor or if you're a businessperson. It's pretty great. It's a great spot."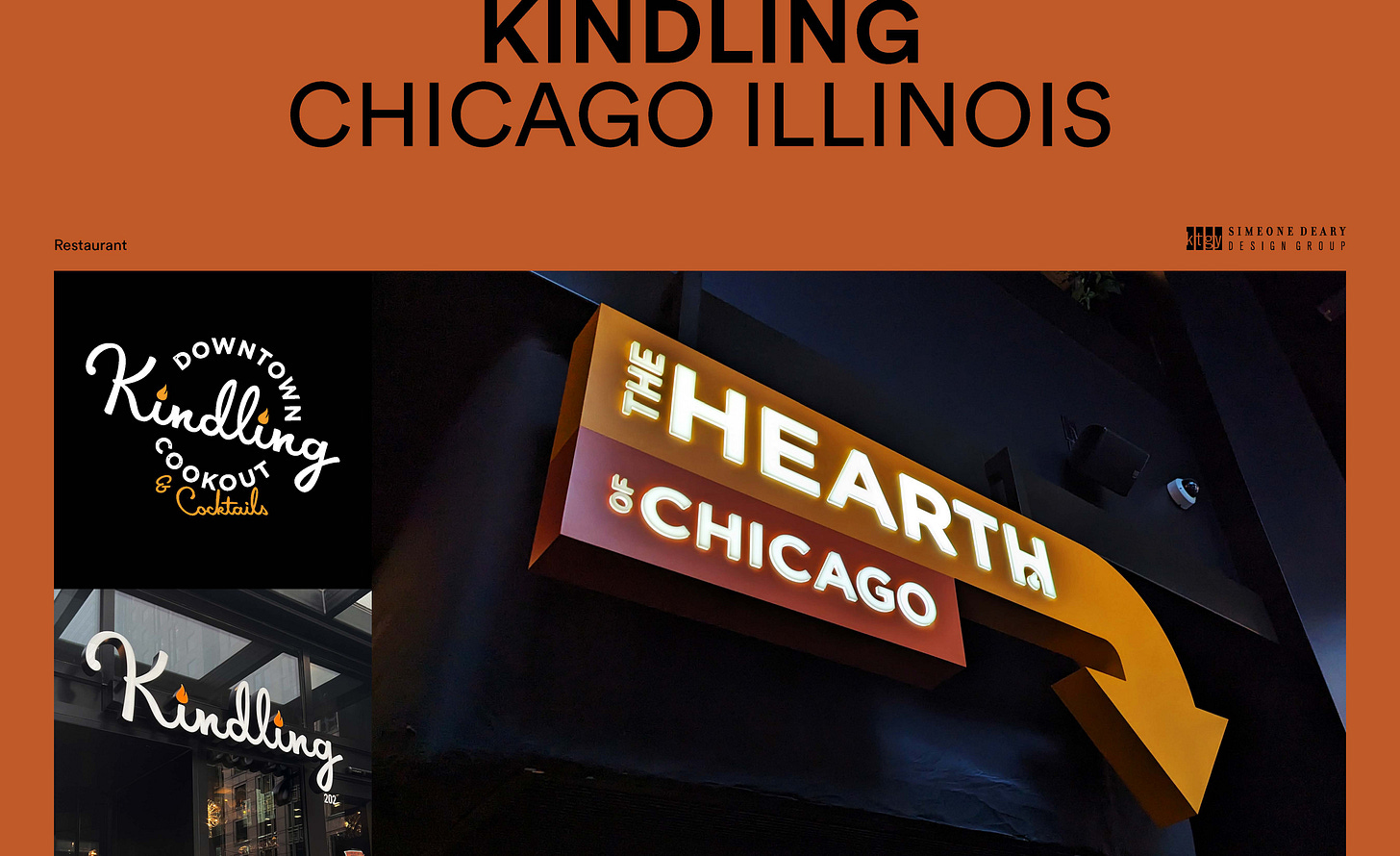 Kindling
Learn more about Hajer's branding work with KTGY SDDG in the podcast interview below, recorded at the Waldorf Astoria Chicago. The conversation delivers deeper into the above projects, as well as the upcoming Louisville Tribute Marriott hotel project.
(Note: The interview was recorded prior to the opening of Revel Steak.)