The Essential – This radical proposal totally reimagines Skid Row housing
Fast Company
July 7, 2023
KTGY developed 'The Essential', a modular building proposal that would create affordable housing, along with community, for LA's unhoused people.
For decades, Los Angeles's Skid Row has been bedeviled by challenges around poverty and insufficient housing. Now, there's renewed focus on making real change in the neighborhood, spurred by newly elected Mayor Karen Bass's focus on tackling homelessness and a $60 million state grant given to LA County to provide services and interim housing. But as evidenced by the recent collapse of a nonprofit serving the area, providing humane housing, support, and services to the unhoused at scale remains a challenge.
That's where The Essential, a proposal by national architecture firm KTGY, hopes to help. Utilizing modular building techniques the firm refined with affordable housing developments in LA, including Hope on Alvarado​​, The Essential proposes building a series of 12-story high-rises for the unhoused across Skid Row.
Designed to fit 335 residents each—with services and amenities like dog parks, libraries, and vocational training centers on the lower floors—each building features adjustable designs meant to accommodate varying lot sizes and entrance configurations. The firm has even scouted 14 underutilized lots within Skid Row, mostly surface parking, with the goal of housing more than 4,000 people (the area's 2022 homeless count was 4,402 people). Ideally, creating housing at scale and connecting it to social services would help attack some of the root causes of the city's homelessness crisis, including a dire shortage of affordable housing, a weak safety net, and poor mental health resources.
"What we're trying to do here is build a supportive community," said David Senden, one of KTGY's principals. "This isn't a whole bunch of little boxes that people go into, that's not the way this is designed. We think of it as a vertical culdesac, where each floor is its own neighborhood."
KTGY leaders admit the project is, first and foremost, a proposal, one they have yet to present to the mayor's office, local nonprofits, or property owners, and one that would likely require significant subsidies in line with traditional affordable housing projects. It's meant to be a conversation starter, one that brings up some tricky subjects. How does this get funded? How do property owners and local governments feel about the plan? Is it wise to house so many unhoused Angelenos in high-rises concentrated in a single neighborhood, repeating the contagion policies of the past?
The recent collapse of the Skid Row Housing Trust, which had preserved older hotels and buildings for housing in the neighborhood, only highlighted the challenges of creating and maintaining housing that's affordable and accessible to those with the most need. A rapid infusion of resources is needed.
"We have to go to scale, and we have to build differently, so anything that provides a permanent housing solution to this community is so obviously needed," said Amy Turk, the CEO of Downtown Women's Center, which has been serving the unhoused downtown since 1978." I think that Skid Row should be a destination for housing, not homelessness."
A MAYOR'S GAME PLAN: GREENLIGHT NEW BUILDINGS
Building more affordable housing has been a core plank of Mayor Bass's strategy since she took office in December. At a June 13 meeting where she reviewed her administration's progress, she noted that 14,381 unhoused Angelenos have been brought inside during the first six months, including 1,323 via the Inside Safe initiative that targets sidewalk encampments. In total, 46,260 experience homelessness on any given day in the city of L.A., which has just under 14,000 shelter beds.
To help add housing, Bass has issued a spree of executive orders meant to speed up permitting for affordable housing projects, including dramatically accelerating the evaluation of 100% affordable projects. Getting those approvals, which previously took an average of six months, and navigating neighborhood and NIMBY pushback, has been a significant impediment to building more homes. Her office claims projects are now getting approved in an average of 37 days.
Since the swearing in on December 11, the mayor's housing team has identified 8,000-plus units across 456 projects eligible for faster approvals, and has already greenlit 1,496 units across 20 projects. There are in-process searches for publicly-owned land that could be used to create more affordable housing; The Essential, where replicable design elements could make approvals even speedier, could take advantage of these initiatives. Senden argues blanket approvals could shave months off the approval process for each building.
APPLYING MODULAR TECHNIQUES TO A BIGGER PUZZLE
The Essential came out of the R&D lab run by KTGY, a studio within the national, nearly 500-person architectural firm that focuses on residential, hospitality and mixed-use work. The basic concept is to build a concrete skeleton on site while constructing the individual steel modular residential units in a factory off site, achieving time savings that ultimately save money. After research and interviews with service providers, designers sized the project to maintain a healthy ratio between the number of beds and staff and service facilities. Each building would have roughly 150,000 square feet of space across 12 levels, including 14 beds for recuperative care, and 13% of the space allocated to social services.
The firm's previous mid-rise modular housing projects, Hope on Alvarado and the soon to open Hope on Hyde Park, have relatively similar construction and material costs compared to traditional building methods, but they took significantly less time, turning what typically takes 24 months into just 16. Faster occupancy means quicker returns on investment in the form of rent; if a modular project was done anywhere near the scale The Essential envisions, it's likely additional economies of scale would be achieved. Market rate high-rises in LA cost roughly $900 a square foot, said Mark Oberholzer, another KTGY principal. He thinks applying modular techniques to The Essential could lower costs to around $500 a square foot.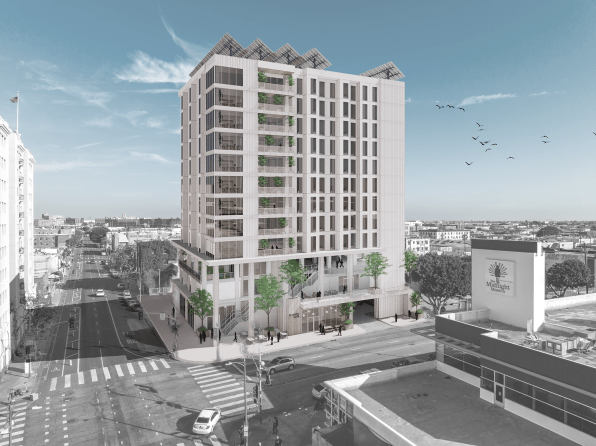 BREAKING GROUND REQUIRES CUTTING RED TAPE
Technology alone can't solve the thorny problem of building affordable housing at an affordable price. An interconnected web of zoning issues, limits on affordable housing, and pushback from NIMBYs and local elected leaders would also stand in the way of such developments.
Look at the Downtown Women's Center's effort to bring just 98 units of new supportive housing to Skid Row on a city-owned parking lot. The project has taken three years and counting. Financing, already hard to source, could only be finalized once the project had full site control. And the lack of sufficient Section 8 vouchers, guaranteed federal assistance to help residents pay for housing and therefore help the development pencil out, slowed down the process. Turk hopes with the mayor's newly announced plans to accelerate affordable projects and utilize city-owned land, they can now get approvals quickly and break ground.
Embarking on the kind of building spree KTGY envisions would also be a departure from what currently exists on Skid Row, mostly low- and mid-rise buildings. The Los Angeles Poverty Department, an arts and activism organization active in the neighborhood, has been advocating for more affordable housing for extremely low-income individuals, with emphasis on those making below 15% of area median income. Lost housing contributed to Skid Row's challenges; during urban renewal in the '60s and '70s, the number of units in the neighborhood was cut from roughly 15,000 to 7,500.
WHAT DOES SKID ROW WANT?
The Los Angeles Poverty Department advocates for more high-rise construction in the area, covering approximately 50 square blocks, to help restore lost affordable housing supply; it's crucial that new projects provide space for extremely low-income tenants. Currently, more than 90% of what's under construction downtown is market-rate rentals or condos.
The new Downtown LA 2040 plan, approved by the city council in May, does alter zoning to support more affordable housing production, but John Malpede, founding artistic director of the Los Angeles Poverty Department, says it doesn't go far enough in terms of density and support to truly change the equation. He says proposals that mandate 80% affordable developments in roughly 20% of Skid Row won't work—how does a 20% market-rate building make enough to incentivize developers? Not to mention, the specter of market-rate projects happening on the fringes of the area will drive up prices and crowd out existing residents.
"You can't just use the tools that exist now and get a different result," Malpede said. He wants new zoning to mandate 100% affordable homes and expand to the entire neighborhood, and beef up Skid Row community representation so residents have more of a say as the plan is implemented.
Even if zoning was altered, such housing density requires significant investments in services and maintenance. What the neighborhood needs is more funding to provide an appropriate level of service for that many people living together, said Turk, who added that any building with over 100 residents would stretch social service resources, making it especially challenging to find enough registered nurses, occupational therapists, case managers, and social workers. Building upkeep also hinders the long-term success of such projects; poor preservation was one key catalyst for Skid Row Housing Trust's downfall.
The Essential also sits on one side of a key debate around expanding housing: Is it more important to rapidly expand housing capacity, regardless of how concentrated it will become, or to create more housing opportunities in mixed-income communities, to bolster social mobility?
The Essential doesn't have answers to all those questions, especially the ones regarding investment and upkeep. For Senden, design is only the start. Just as he foresees The Essential as the type of development that isn't the final stop on the journey for the unhoused and at-risk population in Skid Row, he also sees a push to build bigger and hopefully better housing as the first step.
"We're architects, and we think we can solve every problem," said Senden. "But the truth of it is that it's going to take government, philanthropy, and service providers, as a coalition, to come together to be able to do anything like this."