Village at Valley Forge – King of Prussia is expanding its huge mega-mall, but that's just the start. There are long-awaited housing and office projects — even a Main Street. It's "live, work, shop" in the suburbs.
philly.com
May 18, 2016
King of Prussia is humming, with about $1 billion in development in the works. And it's not just about the mall this time.
Upper Merion Township is about to get its first new office building in a decade and its first family housing construction in nearly two decades.
The investments now underway will attract 4,000 new residents and 2,000 new office jobs – and perhaps all the traffic problems that entails.
Upper Merion in Montgomery County is that rare suburb whose bustling business hub employs 56,000 day workers, far more than the township's 30,000 residents. It doesn't hurt that more than 200,000 vehicles pass by each day on the Pennsylvania Turnpike, I-76, and Routes 422 and 202.
The biggest single project is the mall's massive corridor to connect the old Plaza and Court and house a slew of luxury retailers, part of a $250 million expansion that opens in August.
But a cluster of luxury apartments, stores, and restaurants is also sprouting nearby at the Village at Valley Forge and the $100 million King of Prussia Town Center. The latter is KOP's attempt to drop a fully realized Main Street into one of the region's densest networks of highways.
"It's a tremendous amount of construction," said Eric Goldstein, executive director of the King of Prussia District, the area's catalyst for economic development and job growth. "It's an exciting time to be part of this. The stars are aligned."
The mall has always been successful, but by 2010, not everything around it was. Commercial office leasing was struggling and residential construction had ground to a halt, Goldstein said.
"Now, we have the first new multifamily residential construction in almost 20 years," he said. "The first new office building in 10 years is also setting up in the Business Park, with construction fencing going up."
SEPTA is proposing to extend the Norristown High Speed Rail Line so it would have at least two stops by the mall and two more in the nearby Business Park. If approved, the $1.1 billion project could open in 2023.
The building surge is notable for another reason. While past development was segregated with retail in one area, commercial in another, the new projects are more mixed-use, making them – dare one say? – walkable. "One is able to live, work, and shop all within one neighborhood," he said.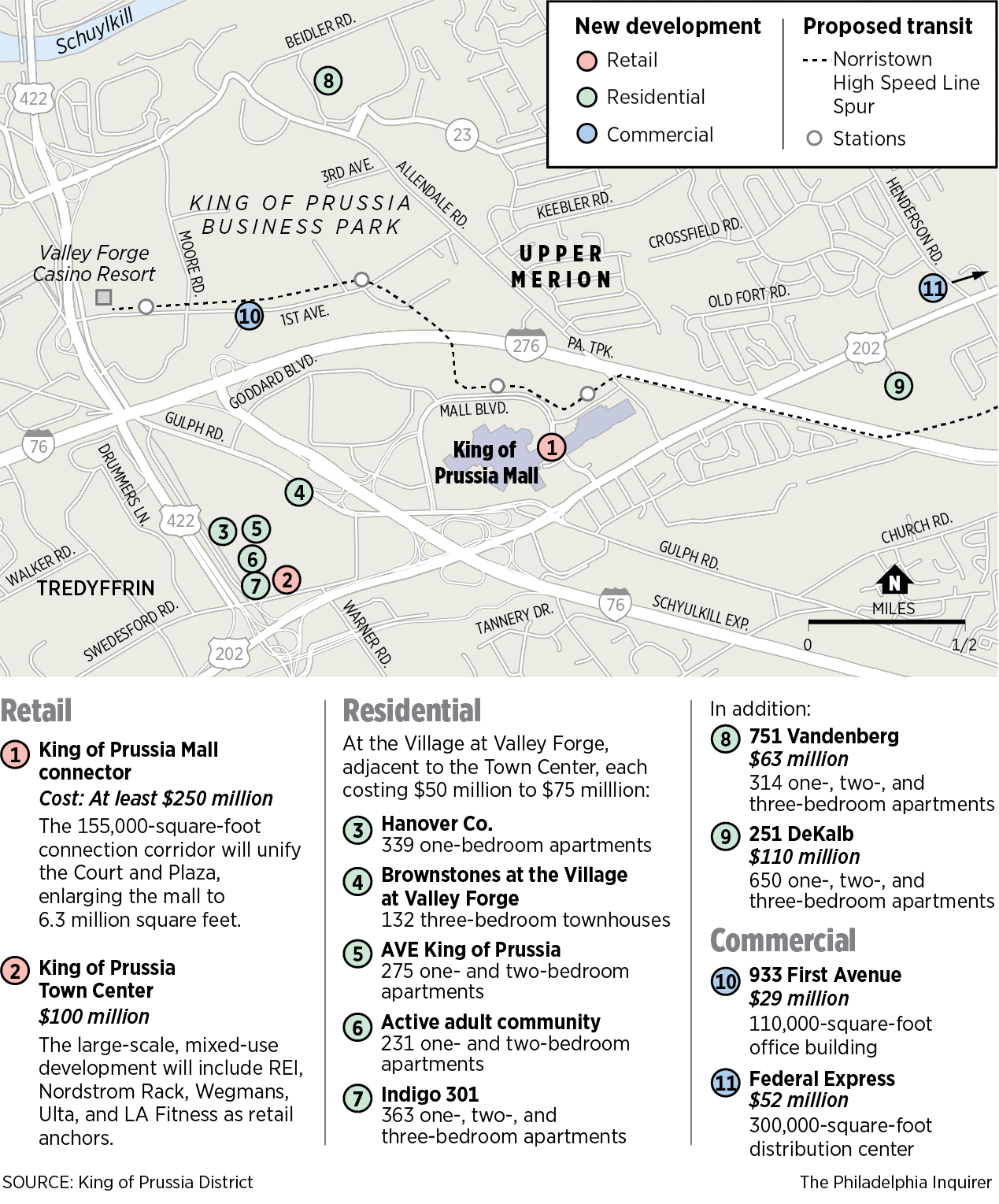 Few would argue against the idea that the mall – simply "KOP" to many – keeps King of Prussia on the map.
While many suburban communities and their malls struggle with retail, KOP – an unincorporated part of Upper Merion Township – motors on, defying the stunning rise of online retailers. Its 1.2 percent vacancy rate is far below the national average of 5.3 percent.
Also in the mall's favor: It doesn't have to compete with Center City shopping.
"You would expect Neiman Marcus, Nordstrom, Bloomingdale's, and Lord & Taylor to be in Philly's central business district," Goldstein said. "But they are not. They are all in King of Prussia."
KOP ranks in the top 2 percent of the roughly 1,200 regional and superregional malls in the United States, said mall expert Mark Hunter of CBRE Inc..
"It definitely has become a destination where retailers want to be, and many of those retailers launch their first stores in King of Prussia," Hunter said.
Just last week, the fashion chains Superdry and Altar'D State, and handbag seller MCM, announced that their first Pennsylvania stores will open at KOP this summer.
The mall expansion that began in mid-2014 will add a half-million square feet of retail, taking the mall to 6.3 million square feet.
The 155,000-square-foot connection corridor will add about 800 jobs and house 50 new retailers, with high-end tenants, such as shoe maven Jimmy Choo and designers Diane von Furstenberg and Stuart Weitzman.
While it boasts a nearby casino, the mall lacks a few amenities as a destination compared with its few peers. Consider its main rival, the Mall of America near Minneapolis, which is similar in size but comes with added draws, such as a seven-acre indoor amusement park and aquarium. Its total package makes it Minnesota's biggest attraction, with 40 million annual visitors, compared with KOP's 20 million to 25 million.
Another mega-mall on the horizon is American Dream at the Meadowlands in New Jersey. It's set to complete construction next year, and besides shopping will feature a theme park, indoor ski slope, and aquarium.
How does the mega-mall affect Upper Merion's finances? The township's tax rate hasn't risen in six years, and its 3.5 percent unemployment rate is far below the state's 5.3 percent.
The township accommodates about $4.8 billion worth of real estate, up from $3.8 billion a decade ago, according to state figures. About half that value is in commercial real estate, giving homeowners a significant break.
Upper Merion's overall tax rate – the annual tax bill as a percentage of market value – is among the region's lowest, data show. At 1.3 percent, the owner of a home valued at $200,000 would pay $2,600 in real estate taxes.
By contrast, the countywide rate is close to 2 percent – translating to $4,000 for that $200,000 house – and rates in some Delaware County towns are triple Upper Merion's. Also, unlike most of its neighbors, Upper Merion levies no wage tax.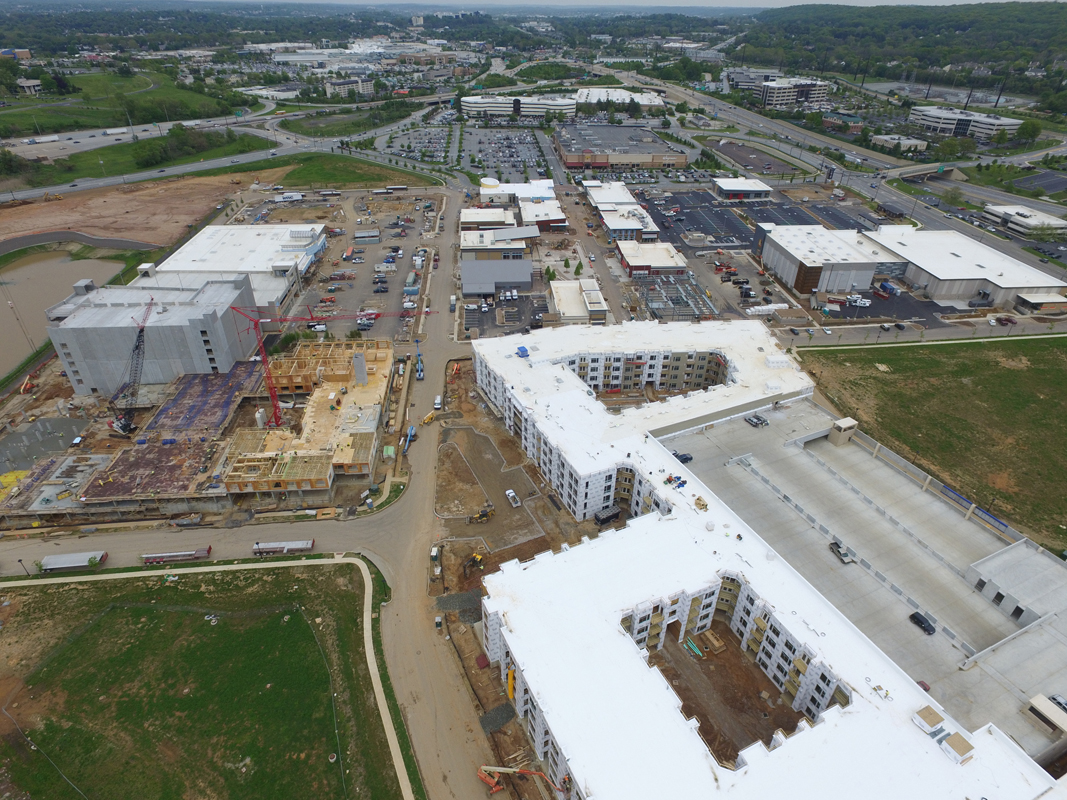 DAVID SWANSON / Staff Photographer
The construction site of the Village at Valley Forge.
Greg Waks, vice chair of the Upper Merion Board of Supervisors, said revenue from new businesses has gone toward building a new community center and township pool, and securing a permanent home for a senior center.
It's a far cry from four years ago, when the township finally ended a three-decade legal battle over zoning for the Valley Forge Golf Course, the last remaining undeveloped land in King of Prussia.
The case "cast a shadow," Waks said. "There was a steady flow of jobs leaving the community, and the local economy was in dire straits. But we also knew that Upper Merion had enormous untapped potential. So we set about to try to resolve our outstanding issues, and now, businesses are moving their offices here and providing jobs for our residents."
That's soon to include the Judge Group, which is relocating its headquarters from the business hub of Conshohocken.
The professional services company signed a 15-year lease for a steel-and-glass building at 151 S. Warner Road, near the mall and Wegmans supermarket. Its 300 employees move in the first week of October.
"We were expanding at such a fast pace that Conshohocken couldn't keep up," said CEO Marty Judge. "The KOP/Valley Forge/Radnor area is an IT center, and we fit in that world. It's the perfect place to grow our company. About 80 percent of my employees are closer to work."
On any weekday, large flatbed trucks and trailers can be seen hauling doors, windows, countertops, bathtubs, and cabinets into the construction zone on Village Drive next to Town Center.
Peter Sikora is development manager for Bozzuto Group, the developer of a 363-apartment complex called Indigo 301. Bozzuto also broke ground this month on a second building with 231 apartments for adults 55 and over.
Nearby, an apartment building is being developed by Hanover Co. with 339 rental units, 132 stacked town houses are going on sale next spring, and 275 one- and two-bedroom apartments are going up at a complex called AVE King of Prussia. When completed, Town Center will contain up to 3,000 residential units.
"Definitely, for the Philly suburbs, it's unprecedented, this level of [building] activity," Sikora said. "It's the whole new 'live, work, and play' motto. It's been the urban model, but definitely new" to the area.
Among those about to tour the new apartments is Kristin Colgan, who became general manager of Sullivan's Steakhouse, next to the mall, in February. Since she's buying for herself and her daughter in second grade, the town houses may prove more appealing after renting in Center City the last four years.
"You can't go wrong with buying property in King of Prussia right now," Colgan, 32, said. "'Another plus: The school districts in Lower and Upper Merion are fantastic."
And not the least: "There is ample parking in the suburbs."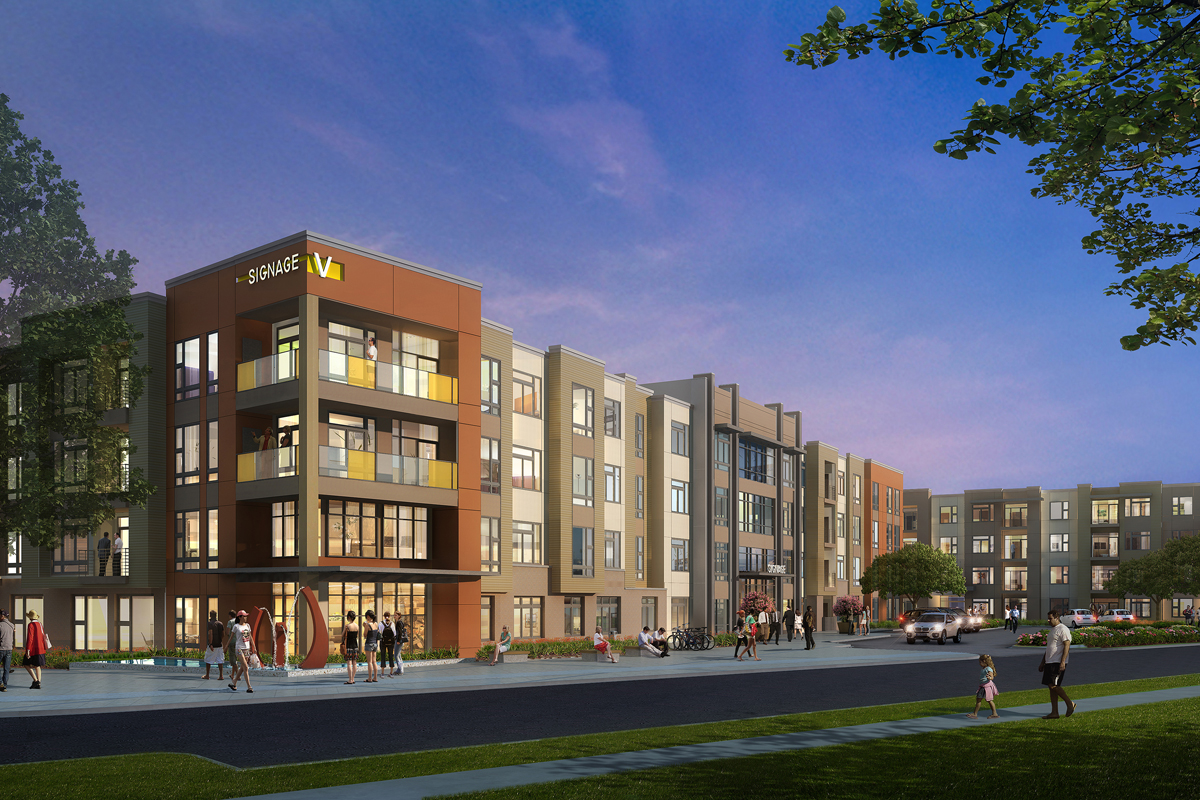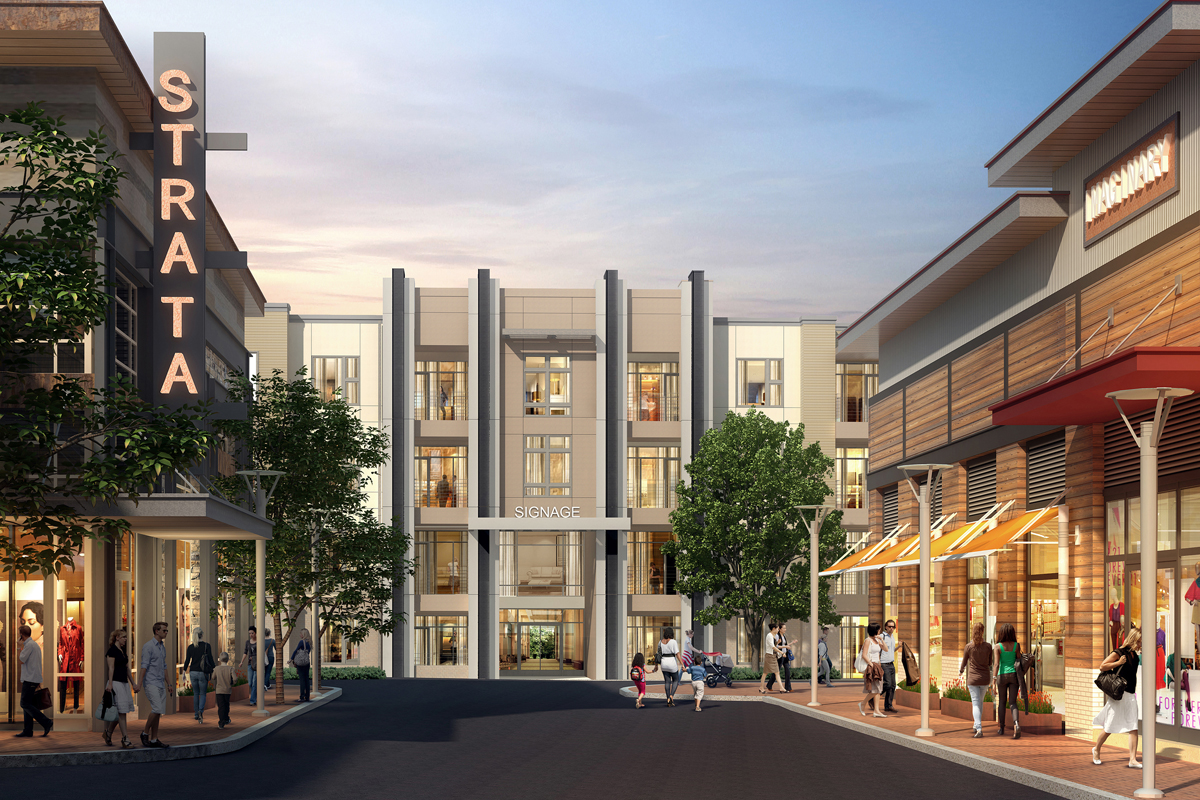 Renderings of the Village at Valley Forge / KTGY Architecture + Planning
Less enamored with all the growth is Leslie Caldwell, 58, a pharmaceutical manager who lives in Jeffersonville and grew up in King of Prussia in the 1960s and 70s. She recalls when KOP was a small outdoor mall where she worked a hotdog stand called the Purple Cow.
She was still in high school and didn't drive but could easily walk from her house. "You can't do that now, no way," she said. "There are too many cars. And the traffic is horrible. I do my best to avoid KOP when driving. Route 202 is bad to begin with."
Stacy Cannon, who lives in Fort Washington, has a different view from her car. She said she had benefited from the area's growth by not having to commute into the city for things like doctor's appointments for her 14-year-old son at Children's Hospital of Philadelphia.
CHOP opened a 135,000-square-foot specialty care and surgery center a quarter-mile from the mall in April 2015.
"You have that market and audience tapping into each other. It's great for the whole Philly area," said Cannon, 53, who works in retail development in Chestnut Hill.
Jerry Sweeney, CEO of Brandywine Realty Trust, is in the thick of the action. Amid KOP's 12 million square feet of office space, his firm is the largest office landlord and behind a third of the nearly 300,000 square feet of new office space underway.
Brandywine's project is the $29 million development, 933 First Avenue, in the sprawling Business Park. It will be the area's first ground-up commercial office building in a decade.
Sweeney is a strong advocate for extending the Norristown High Speed Line to the mall to help ease congestion, which he said was "imperative" for the area to remain competitive.
Meanwhile, LA Fitness is among the businesses betting big on the new Town Center, where it will be an anchor.
The firm will soon close its facility beside the mall to open a two-story, 45,000-square-foot health club in the Town Center by early fall.
"We're still very close to the mall," said general manager Bryanna Tomkins, 21. "But this will bring lots of customers and new guests, because we'll be right in the middle of a whole new town."
sparmley@phillynews.com 215-854-4184 @SuzParmley,
www.philly.com/campusinq